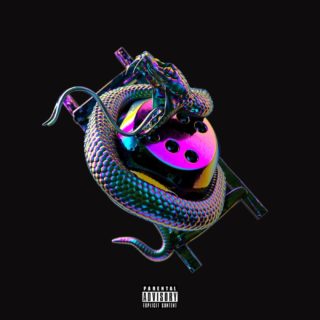 No-one wants a portrait painted by Chip. High hairlines, cracks in character and overemphasized shadow, those who sit for Chip are always shown warts and all. He's an old master supreme.
Much of the build-up to Snakes & Ladders, his latest mixtape, has been coloured by his beef with South London heavyweight Stormzy, with many of Chip's diss-tracks signed off with a brazen advertisement, dropping the date and title of this project.
Well, it's finally here and for those expecting a flurry of offence will be surprised to hear that the subject of much of Chip's savage pen isn't Stormzy, but Chip himself.
Scattered among this project's 21 songs is a fractured, unflinching self-portrait. One that shows Chip trying to navigate a changing world, absorbed in a still life that captures the ghosts of infidelities, beefs, and uncertain futures in his eyes.
Chip's bars surprise, frequently dripped in a melancholic nostalgia, recalling a "real Haringey story" throughout Snakes & Ladders. It's a story that sends him back to the North London of his youth, remembering those he has lost, namely fellow North London rapper Black The Ripper who tragically passed away from a heart attack at 32, and is poignantly sampled in Chip's tribute '0420'.
However, for all Chip's cutting consternation, this mixtape is rammed with enough high-tempo cuts to qualify Chip's early assertion that "I've got so many bangers, I could have a sound clash by myself". 
'Ignite' featuring JME and Dizzee Rascal is the best of the lot. A track that does its best impression of the chemistry Chip displayed with Skepta and Young Adz on last year's raucous Insomnia, standing up bar-for-bar, with Dizzee Rascal's explosive verse a whirling and charming anecdote about when he "caught the clap" but "went straight back" . 
However, for all the standout features and tracks, in a mixtape this bloated, there are a handful that feel gratuitous. And for all the self-inflicting bars, there are dozens that are throwaway. Ultimately Snakes & Ladders is a self-fulfilling prophecy, full of ups and downs in terms of quality, tempo and production.
New monthly memberships available
Here's a new thing: our membership scheme now has a pay-monthly option, plus a load of exciting new digital stuff for people who support what we do. It's actually excellent value, honest, and will help us continue to promote new independent artists and labels.
Sign up and you'll receive our physical magazines delivered to your door, our digital editions, exclusive podcasts and playlists and access to our EXTREMELY glamorous Members Lounge. You'll be the envy of all your friends.