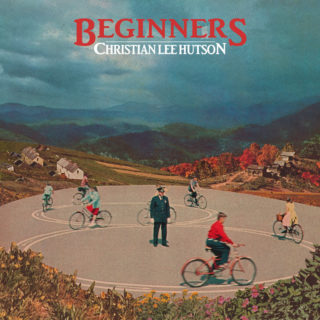 Christian Lee Hutson
Beginners
(Anti)
9/10
A NOTE: LOUD AND QUIET IS IN DANGER OF CLOSING. PLEASE CONSIDER SUBSCRIBING TO OUR MAGAZINE OR MAKING A SMALL DONATION HERE. THANK YOU.
Christian Lee Hutson may call his new album Beginners in reference to where he feels he is in life, but that's just modesty talking. This thoughtful record betrays the kind of talent and emotional precision that some artists spend their entire careers pursuing. Any one of the ten songs on Beginners would be enough to make any musician proud, let alone all of them. 
Friend and collaborator Phoebe Bridgers produced the album in L.A., steeping the music in a polished but warm quality. The album sounds old-fashioned, but in a good way. It's a refreshing take on folk rock, or whatever genre we're calling it in this increasingly genreless world. Listening to Beginners feels like coming home after a long, scary day. Hutson doesn't forget about the hard parts, the challenges and mistakes tripping him up, but sits down with them, resting and relishing in the simple fact of being one small person in a big, senseless world. 
Hutson's voice and deft string work begs comparisons to the giants of folk rock, but to do so would be disingenuous. To do so would necessitate both forgetting the influence of the time Hutson lives in and ignoring the impact this album is bound to have on its own in the unfurling history of music. This is one of those albums people will remember fondly in ten years, remembering when they first heard it, or list it on a social media quiz about which old albums they still listen to regularly. 
It's hard to choose standout tracks from this album, because they're all so good. 'Atheist', the leading song, beckons listeners in warmly, waving them over with a welcoming smile and  fluttering harmonies. 'Talk' is the track I want on repeat. The string work and slightly upbeat tempo feel like an old friend telling me a story I've heard before, but want to hear again and again for the sake of reminiscing in good times. 'Unforgivable', 'Get The Old Band Back Together', and 'Northsiders' are different interpretations of the past reanimated, reminding listeners to stop for a minute, look back, and realise how far life is reaching back behind, but of course in front of them, too. I could go on, but that would just be overkill. You just have to listen for yourself.  
Please support Loud And Quiet if you can
If you're a fan of what we do, please consider subscribing to L&Q to help fund our support of new musicians and independent labels
You can make a big difference for a few pounds per month, and in return we'll send you our magazines, exclusive flexi discs, and other subscriber bonus bits and pieces
Try for a month and cancel anytime