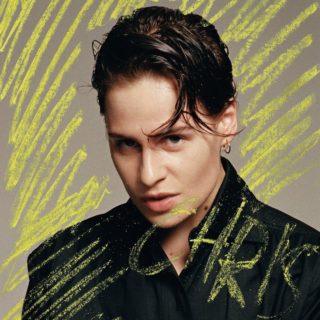 Christine & The Queens
Chris
(Because)
8/10
Am I spending too much time on Twitter, or is everything about gender at the moment? In much the same way that #metoo coincided with a spate of record releases documenting abuse and harassment, the escalating trans-rights debate (which, incidentally, much like all debates taking place online, has got way out of hand on all sides) seems to have heralded a zeitgeist in which everybody is playing with gender and making art about it. Not least Héloïse Letissier, of Christine and the Queens, who's back with her second album, as Chris, a rebirth in which she appears — androgynous and strong — shrugging off the stereotypes that one might expect a female pop-star dropping a funk-inflected '80s record to play up to.
"I'm not going to be exactly the queer you want me to be," is her ambiguously unambiguous message. "I became obsessed with this idea of the macho man, and still being a woman." She says, "What does it mean if I'm this Slim Shady figure, and I'm a woman? Does it make me an aberration? Is it joyful?"
In the promotional images for the album, Letissier looks like a new-romantic era James Dean with cleavage: all dark greasy hair, sunken eyes, perfect angular face and smouldering bad-boy stares straight into the camera lens. It's a look that feels both vital and necessary in an era where, despite everything, we are still saturated with poisonous, passive, post-operative, heavily-made up, unattainable versions of female sexuality.
As Letissier explained in a recent interview on Beats 1, she has crafted this new look and sound as a statement about who she is, having shorn off her hair and worked on her physical and emotional strength. "It had to be Chris at some point because I was bolder and stronger and had more muscle," she said. This transformation continues her playful performance style – before embarking on her career as a musician Letissier trained as a director, and there is definitely a sense of knowing performativity to this new incarnation, hinting at that theatrical past.
The result is 'Chris' – a body of work that explores female sexuality and desire in all its shades of complexity, light and darkness. "There's a pride in my singing," she begins on the opening track, 'Comme Si', "The thickness of a new skin, I am done with belonging." Much like the '80s sounds it calls upon (there's definitely an inkling of David Bowie mixed in with a timeless disco-pop that's mostly Michael Jackson inspired) this is music from an artist that refuses to do what you expect. She's living up to her promise, made back in 2016, to "redefine sexy" so that it becomes "creepy as hell".
And 'Girlfriend', the lead single and the album's second track, sets that sexy-creepy tone that envelops the record. A breathy, glittery, R&B-inflected funk tune that makes no bones about Chris's needs, she's refusing to be your girlfriend, but might consent to being your lover nonetheless.
On '5 Dollars' Chris is horny for money, channelling all the stars of those capitalist '80s movie-classics – think Working Girl or Wall Street, which despite being very different films might both have had '5 Dollars' in the soundtrack, had Chris released then instead of now ("Pocket's full and bright eyes," she sings. "It turns me on because it's time / Five dollars, baby blues, five dollars baby").
Then there's 'Damn (What Must A Woman Do)', the most Michael Jackson sounding track (a repeat theme). That's followed by the syrupy 'Whats-her-face', another '80s movie soundtrack contender. And my favourite, 'The Stranger', a weirdly upbeat finale with a candyfloss instrumental; it might be about a disappointing lover, or a lover waiting off in the future, or something else entirely, depending on how you interpret the lyrics.
There's a French language version of the album as well, although my French isn't good enough to deduce any subtle differences in the two works. All I can say with certainty is that the English version at least is a refreshing and urgent exploration of what it means to be a woman in a cultural moment when women's experiences definitely need to be heard. Oh, and if you miss the distinctive sound of Michael Jackson's production, it sounds great too.
Please support Loud And Quiet if you can
If you're a fan of what we do, please consider subscribing to L&Q to help fund our support of new musicians and independent labels
You can make a big difference for a few pounds per month, and in return we'll send you our magazines, exclusive flexi discs, and other subscriber bonus bits and pieces
Try for a month and cancel anytime