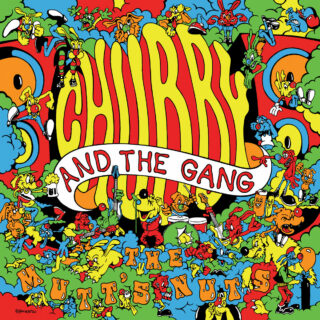 Chubby and the Gang
The Mutt's Nuts
(Partisan)
7/10
Chubby and the Gang are interviewed in the latest issue of Loud And Quiet. Pick up a copy to read it, or become a member to support the magazine.
An ill-mannered variation of "the bee's knees", only to be led further astray by a similarly vulgar image of "the dog's bollocks", to describe something as "the mutt's nuts" feels like an unusual compliment. It's one of those brilliantly nonsensical English phrases, all too illogical to derive any real origin or meaning. But West London's Chubby And The Gang have never been interested in calmly-spoken pleasantries. Continuing to take heed of Jimmie Rodgers Snow's invigorating speech on the ungodly visceral power of the beat, the rousing passage that opened the band's name-making 2020 album Speed Kills, Chubby And The Gang's music is mostly fast, potent, and deadly.
Whether by accident or design, the band's razor-sharp concoction of punk, pub rock, doo-wop, and blues has managed to unravel the well-cordoned-off UK hardcore scene, cementing Charlie Manning Walker (aka Chubby Charles) and his troupe of inner-city loudmouths as frontrunners in a new wave of breakout artists looking to bust the genre wide open. The Mutt's Nuts takes another bold leap into more dynamic territories; they retain their million-mile-an-hour pace, but as Chubby puts it, "you can't tell someone you love them by throwing a chair across the room."
Take these words with a pinch of salt: The Mutt's Nuts is still seething with just about every anti-establishment jibe you think of. Chubby's guttural rasps throatier than ever before, he calls out vicious social hierarchy on 'It's Me Who Will Pay' and gets chewed up and spat out by a broken judicial system on 'Coming Up Tough'. Migrating from the streets of London, the pace slows to address police brutality during the BLM protests on 'White Rags'. Far from pulling any punches, these weightier moments allow Chubby to really dig deep as he drags those responsible through the mud without the faintest whiff of mercy.
Please support Loud And Quiet if you can
If you're a fan of what we do, please consider subscribing to L&Q to help fund our support of new musicians and independent labels
You can make a big difference for a few pounds per month, and in return we'll send you our magazines, exclusive flexi discs, and other subscriber bonus bits and pieces
Try for a month and cancel anytime