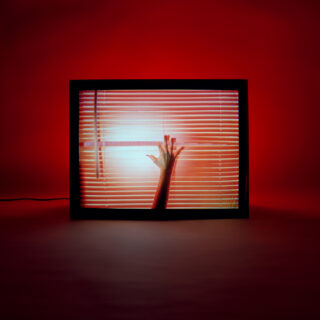 Chvrches
Screen Violence
(EMI)
7/10
Chvrches' Lauren Mayberry was a guest on the latest series of our podcast Midnight Chats. Listen here. 
The last Chvrches record, Love Is Dead, represented a bit of an Icarus moment for them. They'd always been a polished outfit, even on the singles that preceded debut LP The Bones of What You Believe, so the only obvious trajectory for them on the albums that followed was to lean into their anthemic, arena-ready side, something that paid off handsomely with the festival-friendly likes of 'Clearest Blue' and 'Never Ending Circles' on 2015's Every Open Eye. You know, however, that you've travelled too far down that road when you begin sounding like Imagine Dragons, and Love Is Dead was too often overblown; the sense was that the trio had definitively lost touch with the taut melodies that made their biggest singles such triumphs.
You wonder whether they've recognised that, too. By accident or design – the album came together largely over video calls, with singer Lauren Mayberry in Los Angeles during the pandemic and Martin Doherty and Iain Cook in Glasgow – there is a renewed simplicity of approach to the songwriting on Screen Violence; even the title goes back to their roots, a name they'd once considered for the band. Fists-in-the-air moments remain, but Mayberry earns them with some of the best lyricism of her career, particularly on blistering anti-mansplaining lead single 'He Said She Said'. 
Elsewhere, there's breezy, reflective pop, like the handsome 'California' and 'Final Girl', the latter heavily imbued with the kind of '80s-referencing synth that defined Paramore's After Laughter. The Robert Smith collaboration 'How Not to Drown', meanwhile, provides an epic centrepiece; whilst never quite hitting the heights of those massive early singles, Screen Violence is the sound of Chvrches back on track.
Free Protomartyr flexi disc with this month's magazine
Subscribers to Loud And Quiet now receive a limited edition flexi disc of a rare track with their copy of the magazine
This month's disc is from Detroit punk band Protomartyr