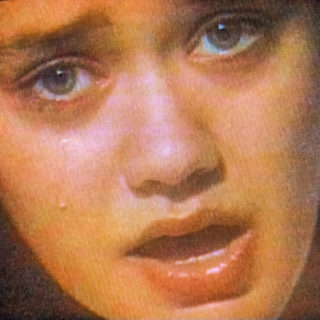 A NOTE: LOUD AND QUIET IS IN DANGER OF CLOSING. PLEASE CONSIDER SUBSCRIBING TO OUR MAGAZINE OR MAKING A SMALL DONATION HERE. THANK YOU.
For Kai Hugo, the Dutch electro experimentalist better known as Palmbomen, this second record 'by' Cindy Savalas is the latest diversion in a career full of them. PC Music springs to mind immediately, not only in Hugo's creation of a fictional character (first introduced on an eponymous track on 2015's Palmbomen II), but also because the sonic palette of at least half of these tracks dovetails pretty neatly with what we're all used to from that label. 
The likes of 'Cousin's Birthday Party', 'Never Let Me Go' and 'Justin' all feature Cindy's breathy, sometimes distorted vocal – supplied by Blue LoLãn – laid over simple synth melodies that recall the jaunty minimalism of 16-bit video game scores. 
The record's more intriguing side, though, entails LoLãn channeling Julee Cruise, and serving up the sort of atmospheric fare that would've nabbed Cindy a guest spot at the Roadhouse in the Twin Peaks revival. 'Mary', on which a woozy saxophone wanders across a thick web of twinkly electronic loops, is a case in point here, as well as opener 'Another', which is brooding enough to recall Chromatics at their most enigmatic. The constant flitting between the moodier side of I'm Cindy and its bubblier counterpart makes it a frustrating listen, and those who find the conceptual side of PC Music a drag will understandably roll their eyes. Still, the murkier moments demonstrate potential.
New monthly memberships available
Here's a new thing: our membership scheme now has a pay-monthly option, plus a load of exciting new digital stuff for people who support what we do. It's actually excellent value, honest, and will help us continue to promote new independent artists and labels.
Sign up and you'll receive our physical magazines delivered to your door, our digital editions, exclusive podcasts and playlists and access to our EXTREMELY glamorous Members Lounge. You'll be the envy of all your friends.