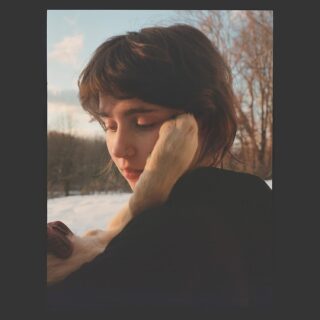 With her second LP Sling, Clairo has enlisted Jack Antonoff as a co-producer, presumably in the hope he could do for her what he's done for Lorde, Taylor Swift and Lana Del Rey – i.e. help her craft a pop masterpiece. When she emerged in 2017, Clairo (real name Claire Cottrill) quickly became a poster girl for the type of lo-fi indie-pop that had until then existed mostly on the fringes of the mainstream, and played no small part in its crossover, with songs like 'Flamin' Hot Cheetos' and 'Pretty Girl' nimbly bridging the gap between Pitchfork and Teen Vogue readers, not to mention her ever growing social media following. Her first album Immunity, produced by Rostam Batmanglij, built on this lo-fi sound, elevating it without losing its charm.
Sling sees Clairo refine her sound even more – Antonoff isn't known for his rough edges after all. It's hard not to feel that something is lost in this cleanup, some of the naivety and playfulness which made those earlier tracks so endearing. Which makes sense, in a way – this is an album about settling down, learning to take care of yourself, and letting go of that which doesn't serve. Cottrill's lyrics are as tender and earnest as ever, and on the whole, Sling's ornate arrangements complement this, though at times the theatricality of the production seems to overwhelm their simplicity. The album's best moments are as ambitious as anything Antonoff has worked on, but gorgeously understated in a way that feels unique to Clairo. Recent single 'Blouse', for example, which takes on sexist men in the music industry, glimmers with a quiet rage, with intricately layered strings and backing vocals from Lorde giving weight to Cottrill's airy vocals. 'Harbor' captures some of that same gentle intensity, as do closing tracks 'Little Changes' and 'Management'. These tracks point to Clairo's potential – but ultimately make you wish the rest of the album had a bit more of their emotional depth.
New monthly memberships available
Here's a new thing: our membership scheme now has a pay-monthly option, plus a load of exciting new digital stuff for people who support what we do. It's actually excellent value, honest, and will help us continue to promote new independent artists and labels.
Sign up and you'll receive our physical magazines delivered to your door, our digital editions, exclusive podcasts and playlists and access to our EXTREMELY glamorous Members Lounge. You'll be the envy of all your friends.