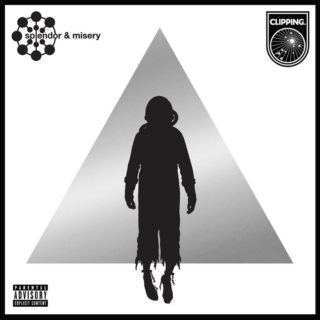 Clipping
Splendor & Misery
(Sub Pop)
9/10
LA experimental rap trio Clipping's third album is a dystopian hip-hop space opera played out between the lone survivor of a slave revolt on an intergalactic cargo ship, the onboard computer that falls for him and, via multiple hisses, whistles and the clanking of industrial machinery, the ship itself. But don't let the ripe whiff of concept album put you off: 'Splendor & Misery' is no prog indulgence, and doesn't come with A Message, a shoehorned "plot" or a shred of ponderous pomposity. Instead, it's a magnificent, nerve-jangling and altogether rather riveting blast of unflinching white noise and throb, virtuoso rapping and, most improbable of all, richly romantic gospel-choir interludes designed as much to disconcert as to offer tuneful respite from and guidance through the surrounding sonic shrapnel.
That 'Splendor & Misery' is such a cohesive piece of music, though, shouldn't be much of a surprise: producers Jonathan Snipes and William Hutson work as sound designers and film composers (they recently scored the cinematic criticism documentary Room 237, which explores interpretations of Kubrick's The Shining – itself, coincidentally, a film not light years aesthetically from 'Splendor & Misery'), and MC Daveed Diggs has another life as a Grammy and Tony Award-winning Broadway musical star.
But while the trio's combined experience in musical narrative is clearly not wasted here, what adheres the record's constituent parts better still is a delicious sense of intra-band competition: each member appears to be pushing for harder, more aggressive approaches here than in their day job, and the consequent sparring and counter-sparring is a delight. Accordingly, when Snipes and Hutson's compositions, full of migraine feedback and reverberating bell tones, demonstrate more in common with musique concrète than with the work of their fellow Angeleno hip-hop auteurs, it's a tribute both to Diggs' inventive wordplay and to his acrobatic oral dexterity that he punches his weight so fiercely. And while that approach doesn't always create the most comfortable listening experience – 'Splendor & Misery' is decidedly not dinner-party music – it nonetheless makes for a compelling masterclass.
The nearest neighbour to 'Splendor & Misery' in terms of sheer conceptual confidence might well be 'To Pimp A Butterfly' – indeed, the only earthly lyrical reference on the entire album is to Kendrick's 'Control' verse – but musically, 'Splendor & Misery' is on another planet: Lamar's jazz warmth is swapped for the icy vacuums of outer space, and Diggs' dizzying, ever-shifting flow feels thrillingly peerless. The effect is to render 'Splendor & Misery' as an unmistakable Art Album: absolutely uncompromising in its execution, pace and vision – a whip-cracking, tightly coiled, copper-bottomed triumph.
Please support Loud And Quiet if you can
If you're a fan of what we do, please consider subscribing to L&Q to help fund our support of new musicians and independent labels
You can make a big difference for a few pounds per month, and in return we'll send you our magazines, exclusive flexi discs, and other subscriber bonus bits and pieces
Try for a month and cancel anytime