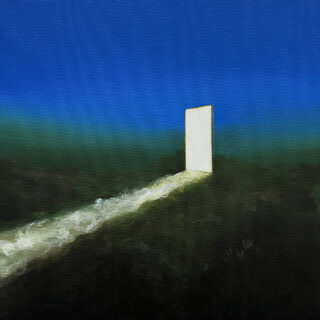 A whispered delivery is always a gamble. Too quiet and you're unemotive. Too breathy and you're monotonous. Therefore, it's a small miracle how dynamic and impactful Glaswegian sibling duo Cloth can be as performers, given how hushed their music often is. Paul and Rachael Swinton bring even more range and dynamics to their sound on Secret Measure, their first record working with an outside producer in Ali Chant. 
Rachael Swinton's vocal is clear and intimate, even when surrounded by a subtly busy mix of guitars, synths, harmonic pings and reactive percussion. On 'Ladder', we hear every weary exhalation, as more layers are added.  The enveloping and hypnotic atmosphere allows the songs to shine. Each small shift feels seismic: take the gentle guitar thrum that's added just before the chorus of 'Another', or the use of a full kit to centre us on 'Ambulance'. 
Sometimes the melodies could be reinforced more strongly, like on the barely-there approach to 'Lido', which never resolves into a memorable phrase. Still, even here, there's a heartfelt approach to lyricism and pacing to keep the spell intact. 
"We were just dreaming in time / Living in a ruin," she sings on heavy closer 'Blue Space'. It's ambiguous enough to be haunting, and dramatic enough to connect. There's a lineage of Glasgow bands finding power in the more desolate corners of alt-rock and electronica. It's fitting that Secret Measure releases on Mogwai-run label Rock Action, which has also been home to Blanck Mass and The Twilight Sad. With a record this fluid and chill-inducing, Cloth deserve to be in that company.
Free Protomartyr flexi disc with this month's magazine
Subscribers to Loud And Quiet now receive a limited edition flexi disc of a rare track with their copy of the magazine
This month's disc is from Detroit punk band Protomartyr