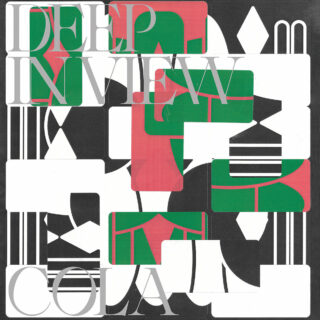 Spare a thought for the drummer and keys player from Ought: on the same day that the quartet announced their split last November, Cola – a new band comprising the other two members of Ought (lead singer/guitarist Tim Darcy and bass player Ben Stidworthy) – released a debut single that sounded so much like Ought that the rejected rhythm section must have started to feel like they'd accidentally spotted their exes on dates with their doppelgangers.
Quite what happened to end one of the most inventive and forward-looking post-punk bands of the last decade is presumably buried in private band politics, but what is clear from Cola is that Darcy and Stidworthy's new project is less a new beginning and more a continuation: across Deep In View's admirably lean 35 minutes, the pair, augmented by U.S. Girls drummer Evan Cartwright, cast their familiar spell of clipped, filtered vocals and taut guitar lines, Darcy half barking-half speaking angular prose poetry with his trademark combination of insolence and confidence, with persuasive, moreish effect.
Cola's continuity is both successful and welcome, and Cartwright's drumming – more driving, minimal and motorik than that of his predecessor – adds just enough new direction to make the record feel like progress, not retread: at least a third of Deep In View could happily keep an indie disco dancefloor warm between early Strokes numbers, revealing a likeable directness that wasn't often present with Ought. Similarly, when the newly insistent rhythms come up against the recognisably sparse guitar lines and Darcy's pleasingly non-sequitous lyrics on 'Water Table' ("I can only think to say / Catacombs and water mains") it makes for the record's highlight and a genuinely strange and compelling song. Closing pair of 'Fulton Park' and 'Landers' are disconcertingly jaunty (the former) and jazzy (the latter) enough to suggest intriguing music to come from this new trio, but for now, Cola is enough to quench a curious thirst.
Please support Loud And Quiet if you can
If you're a fan of what we do, please consider subscribing to L&Q to help fund our support of new musicians and independent labels
You can make a big difference for a few pounds per month, and in return we'll send you our magazines, exclusive flexi discs, and other subscriber bonus bits and pieces
Try for a month and cancel anytime