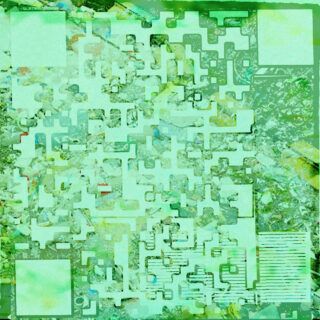 Comfort
What's Bad Enough?
(FatCat)
8/10
It's a good question. Living standards fall. Fascism rises. The rights of marginalised groups get debated on the daily in detached online areas.  The world trudges on. Sibling duo Comfort rage against all of it on What's Bad Enough? 
Their rage is one of knowing all of the problems, and being entirely powerless to change them. That's one of its core strengths. Vocalist Natalie McGhee avoids the sloganism and empty gestures that occasionally plagues the current wave of British punk music when packaged in album form. Instead, she offers vivid stories, brutal commentary, and hope in that she's right there witnessing all the same bullshit as you.
The pair work with a fittingly minimal set-up. Brother Sean is on the drums. Natalie's in charge of a sour collection of noises to give the tracks body and a twisted edge. All focus is on her vocal performance, which shows its strength immediately on opener 'Billionaire Potential'. On it, she satirises rise-and-grind conservatives sucked into the promise that they're born to be winners. Her points are obvious to the chronically online (hello), but the thrill comes from her clever and callous delivery. 
'Real Woman' follows with a gratifying refusal to play the Gender Critical debate. Instead, she takes the "adult human female" tag for herself: "I've never had so much interest In what's between my legs / But I don't blame them at all / I think I'm fit as well". 
Again, these are things you know if you're trans and online (most of us), but the album really thrives when diving into a less well-trodden topic. 'Born Bad' examines the genetic, social and environmental factors that are quickly ignored in public reactions to violent crime, in favour of monstering. It's a call for true empathy and remorse, and all the bolder for it. "That could have been me" she says, before garbled synths overwhelm.
'Normal Till It's Not' is another highlight, satirising quick assimilation as the expectation for marginalised groups. "You don't earn respect until you're a viable market", goes one brutal line. "Banks to the front of the Pride march," goes another. Yes, written down, this might sound like homework for socialists, but the thrill of What's Bad Enough? is that it aims to convey the depth of these issues through committed performance. 
There's sweetness too, on closer 'Wild and Fragile'. In it, Natalie reflects on the pain and beauty of living as a trans woman, and her gradual shedding of self-doubt from those who wish to control her. Her brother Sean plays to the same cadence as her lyrics. "I'm not ahead of my time / Today is mine", she says, that anger still there in her voice. 
Free Protomartyr flexi disc with this month's magazine
Subscribers to Loud And Quiet now receive a limited edition flexi disc of a rare track with their copy of the magazine
This month's disc is from Detroit punk band Protomartyr