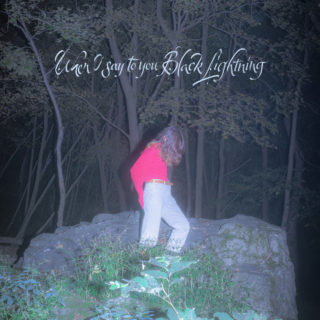 Common Holly
When I Say To You Black Lightning
6/10
Brigitte Naggar – AKA Common Holly – treads bolder territory on her second LP while keeping the emotional sincerity of 2017's Playing House firmly intact. Here, she submerges herself in darkness and dissonance: it's rougher, looser and more atonal, while eliciting a similar kind of intrepid vulnerability that oozes from the likes of Haley Heynderickx's and Aldous Harding's work.
When I Say to you Black Lightening is an exploration of the human condition and the various ways we all experience pain, fear and self-delusion, and how we can learn to confront those feelings courageously. There are moments that really shine, particularly within Naggar's lyrical prowess – both witty and astute: the closing track, 'Crazy Ok', borrows form the canon of loud/quiet indie rock, and confronts mental health in a way that's playfully flippant, while songs like 'Central Booking' and 'Measured' denote a fondness for the eerier side of folk. The melodic despondency of 'Uuu' is where Common Holly really prevails.
As a whole, however, Common Holly's second album lacks fluidity. Its ideas are all over the place: from gothic folk and indie rock to dainty, introspective singer-songwriter. In theory this should work, but it feels confused here. This may also be where the appeal lies, too. Still, Naggar's assimilation of humanity's emotional challenges is to be commended. In spite of its faint flaws, this is a brave, well-wrought album where its creator's potential begins to fully unfurl.
Free Protomartyr flexi disc with this month's magazine
Subscribers to Loud And Quiet now receive a limited edition flexi disc of a rare track with their copy of the magazine
This month's disc is from Detroit punk band Protomartyr