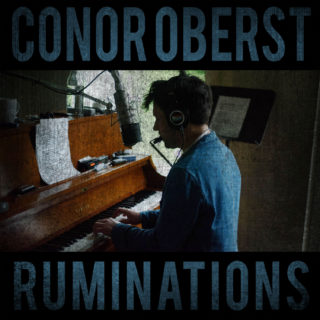 Conor Oberst
Ruminations
5/10
Recorded last winter in Oberst's hometown of Omaha, 'Ruminations' was laid down within a period of just 48 hours, which isn't surprising given how stripped down it sounds. With just his acoustic guitar, piano and harmonica in tow, 'Ruminations' is the result of timely happenstance: having never intended on writing during this time, he ended up with "more than enough songs for a record" the results of which recall the kind of wistful melancholy you'd expect from hibernating away during winter, surrounded by snowy landscapes and wood fires.
Oberst, of course, personifies sensitivity, and is no stranger to portraying dejection, but nothing has ever quite sounded as depressing as 'Ruminations'. His tendency to reveal every thought – from romance to personal philosophy and politics – is a well-wrought quality, but after just a few tracks it runs the risk of sounding overwhelmingly bleak, particularly on the excessively downbeat opener 'Tachycardia'. "I'm the one who has to die," sings Oberst, with a strained, faint crack in his voice as though he's about to cry. It's all a little too doom and gloom, even for the most sensitive of souls.
Still, Oberst's craftsmanship is wonderful, his guitar playing typically delicate but deft, lyrics remaining unashamedly contemplative, his experience dealing with anxiety an admirable, prominent theme. Ultimately, though, a little more lively optimism is left seriously wanting.