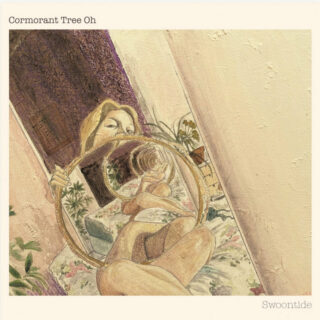 Cormorant Tree Oh
Swoontide
8/10
You don't have to stray far from the source of Swoontide to see Ireland's reputation as a nesting ground for pioneering folk music continued. From Lisa O'Neill to Aoife Nessa Frances, Junior Brother to John Francis Flynn, Lankum to Ye Vagabonds, the national scene's headliners are plentiful, but Maija Sofia's ground-breaking 2019 debut album Bath Time plays with the best of them, and her new Trapped Animal labelmate Mary Keane has just released one of the year's most compelling albums as Cormorant Tree Oh. It sounds nothing like anything.
The songs on Swoontide read like running chapters of a dark folk horror film: 'Thirty Deer Heads', 'Holiday Rigor Mortis', 'We Are Fruiting Bodies'. More often than not their realities are just as striking as their titles. Eerily minimal instrumentation chimes against cinematic silences, where even the quietest dulcimer chord can sound like a clamour. Ominous swells of nothing stretch out between dissonant harp in lead single 'The Cave', and though Keane's vocals wouldn't sound misplaced behind a shoegazey wall-of-sound, they feel emboldened against the fragile canvas scraps they're afforded.
Swoontide's strength remains in its confessional feel. Its listed instruments risk falling into novelty were they not so carefully placed – Keane's mother's washing machine, water coming to the boil, percussion using bread bins and biscuit tins, stones and a spiral staircase. There's intrigue in a balalaika, theremin and psaltery, and when the latter's strum in 'Pissing Stones' breaks the menacing plink-plonk of its construction – blotting her medieval composition with space-age futurism – it holds a rare soundscape both new and ageless.
Free Protomartyr flexi disc with this month's magazine
Subscribers to Loud And Quiet now receive a limited edition flexi disc of a rare track with their copy of the magazine
This month's disc is from Detroit punk band Protomartyr