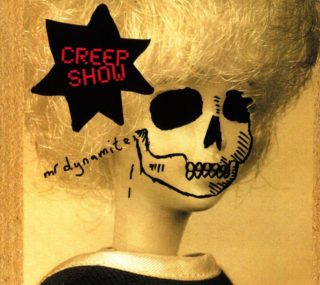 Creep Show
Mr. Dynamite
7/10
Let's not take this too seriously. We are now in a world where "music as escapism" doesn't just come gift-wrapped as a catchy pop song, but where you're staring deep into the theatre of the absurd, being governed by a white skull-doll who goes by the name of Mr. Dynamite. Within this world a t-rex is diagnosing itself with make-believe diseases, pink squirrels are playing video-game synthesisers and the only point of reference – the Tokyo metro – has suddenly become laden with influential German robo-pop and the occasional "konichiwa".
Creep Show is a Frankenstein's monster of a project, merging the progressive balladism of John Grant with the dark analogue electro of Wrangler (Stephen Mallinder / Phil Winter / Benge). The result is befitting of a band that has been "bubbling away for decades in a petri dish containing spores of seventies sci-fi, bad taste and broken synthesizers." It is disjointed, at times unlistenable, but utterly brilliant.
Musically we are taken everywhere. A vocal interlude in 'Modern Parenting' recalls the sovereignty of old-school Sugarhill hip-hop, while effortless funk and groove seeps through the automated basslines of 'Endangered Species' like muddy water through a leaky pipe. The only point of cohesion is that it is completely incoherent, and no one can be sure if this is just one big joke.
While even the oxymoronic closing track 'Safe and Sound' is nine minutes of esoteric dance music, it offers a rare platform for Grant's sumptuous vocals. However innovatively Creep Show have crafted their debut album, at the end of a bizarre ride it is a comforting reminder that some serious musical faculty resides at the bottom of the chaos.
New monthly memberships available
Here's a new thing: our membership scheme now has a pay-monthly option, plus a load of exciting new digital stuff for people who support what we do. It's actually excellent value, honest, and will help us continue to promote new independent artists and labels.
Sign up and you'll receive our physical magazines delivered to your door, our digital editions, exclusive podcasts and playlists and access to our EXTREMELY glamorous Members Lounge. You'll be the envy of all your friends.