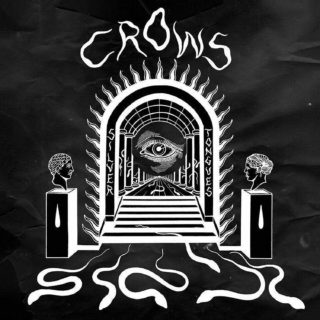 North London quartet Crows were a well-kept secret for too long. Thrashing around pubs and clubs, amassing a masonic cult following, they have eventually been signed to Balley Records, the label run by Idles frontman Joe Talbot. This album is a confident debut, imbued with the impatience of being forced to wait.
Crows are defined by their thunderous, Richter-scale-bothering fundamentals, and their title track here invades the same muscle-bound, bluesy terrain that still hails Black Sabbath as its great colonial leaders. Much like Pigs x7, the band represent the next wave of heavy British guitar groups, but in this case their hooks squelch in the flesh of psych and punk too.
The latter is exemplified by 'Demeanour', with James Cox's Lydon-esque quivering sneer corralling the rest of the band to chug along at a Summer of '76 pace. 'Empyrean' allows the acid-tinges to bleed in, although their aesthetic tends to be light on the tie-dye, Cox's vocals now echoing in the cavernous space carved out by Steve Goddard's layered guitar and Jith Amarasinghe's and Sam Lister's industrial rhythm.
If any of this is memorable or breaking new ground is up for debate, but this is easily enjoyable for those with a heavy palate. Guitar solos only occasionally emerge from the solid black miasma, like at the climax of 'Hang Me High', but the real departure is 'First Light/False Face' which channels some of the occult of Nick Cave's deep, nihilistic declarations. It is a sacrificial slow march, its restraint wavering but never snapping, proving that Crows may have more shades to offer in the future.