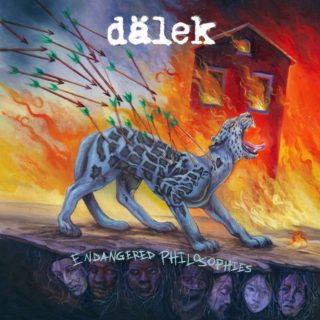 Dälek
Endangered Philosophies
(Ipecac)
7/10
Experimental hip-hop trendsetters Dälek are in a creative rebirth. Just a year after their long-awaited return, 'Asphalt for Eden', another full length is here. 'Endangered Philosophies' is a heftier experience in every sense. The tracklist is longer, the beats are fuller, and the theme is focused.
'Battlecries' is a vivid, disintegrating elegy that encapsulates the experience. Blunt bars lay out the oppression faced by minorities, and the solace the band find through underground music: "We cite the battlecries of Leroy Jones / We agonise over the unknown / I need a microphone".
Barebones drum-breaks cut through the band's thick shoegaze production. The formula has remained the same since the nineties, but the aged quality only adds eerie character to the album.
The writing does falter occasionally; MC Dälek's wordplay can feel overworked to the point of emotional disconnect, while the band's style now seems tame in comparison to other wild experimenters like Death Grips. Mostly, though, the atmosphere and the energy is thrillingly apocalyptic.
Free Protomartyr flexi disc with this month's magazine
Subscribers to Loud And Quiet now receive a limited edition flexi disc of a rare track with their copy of the magazine
This month's disc is from Detroit punk band Protomartyr