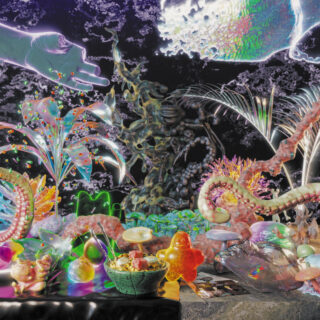 Dama Scout
Gen Wo Lai (Come With Me)
6/10
Nobody likes to be the odd one out; just ask Dama Scout's Eva Liu. Born in Northern Ireland to parents from Hong Kong, Liu's heritage led to a childhood spent being the awkward focus of schoolyard curiosity. A journey from attracting unwanted attention to taking eventual ownership of her identity is what forms the backdrop of Dama Scout's debut offering – a story of learning to love yourself, and be comfortable in your own skin. 
Over the course of an EP and a few dotted singles either side, Dama Scout have been building a reputation for the sort of failsafe disjointed indie charm that's supplied many jangly guitar outfits. But Gen Wo Lai (Come With Me) arrives with sights fixed on something more transformative, this time following the lead of a spellbinding track list that draws inspiration from East Asian pop and cinema, towering noise rock, industrial beats, and yet more jammed in between. 
Thick walls of distortion on 'Emails from Suzanne' become dreamy EQ fluctuations on 'Dan Dan Bub' – though routinely ear-catching, these twists and turns do occasionally blur together, making some more memorable than others. But this is no discredit to Dama Scout's stylistic ascension. Less regimented and bearing a far greater depth than all that precedes it, Gen Wo Lai (Come With Me) adds clear development to the band's limited, albeit promising discography.
Free Protomartyr flexi disc with this month's magazine
Subscribers to Loud And Quiet now receive a limited edition flexi disc of a rare track with their copy of the magazine
This month's disc is from Detroit punk band Protomartyr