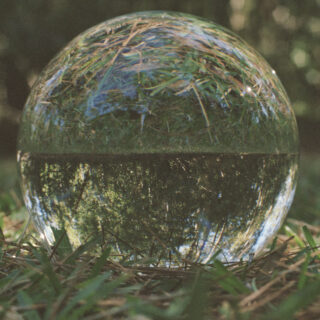 Just as Darkside were about to break through, they stopped existing. Nicolás Jaar and Dave Harrington began with no expectations. The project was a freeform jam that allowed both to step out of their comfort zones. The two met when Jaar was looking for a third musician to join him and his long-time collaborator Will Epstein as he toured his debut album, Space is Only Noise. Epstein recommended Harrington, who was already a firm part of the New York jazz/psych/everything scene. After a brief jam session, he had the gig. It's an unsexy, functional origin story for a band that would become known for being so explorative, but even on that tour, you could feel the push-and-pull that has come to define the band. 
Harrington approached the live show as a natural improviser, and Jaar himself had performed fully-improvised shows, including a five-hour set at MOMA PS1, which morphed into new forms depending on his collaborators, the audience, and his mindset in any given moment. On the tour, the two were finding ways to transform Jaar's material for a live setting, leaving empty space for wherever inspiration would take them on any given night, in any given room. Tension and playfulness coexisted in those moments. But offstage, they had stumbled onto something new. 
The two enjoyed playing together in their downtime between shows. Jaar's fluid approach to electronic music played off Harrington's melodic and grounded guitar playing in a way that allowed both artists to try things that weren't possible without the other. Before long, they had put a name to their jamming, released an EP, and booked live performances.
And what live shows they were. Anyone who caught Darkside on their Psychic tour will be able to attest to the magnetism of those hypnotic sets. I was lucky enough to see them at Glasgow Art School in 2014. A fire alarm went off halfway through the set. We had to stand outside in the rain for about half an hour, and it's still one of the best gigs I've been to. On their own, the two artists are champions of tension and release; this is only amplified when they play off each other, casually extending ideas as they come to them, or delaying the payoff until it bubbles over into euphoria. 
The magic of their debut album, Psychic, is that they somehow manage to capture the in-the-moment intensity of their live jams, extending songs into eight-minute beasts without overdoing it. Crucially, the grounding of Harrington's guitar playing brought balance to Jaar's own music. He had already earned an international fanbase with his woozy, textured approach to electronic music (his early single 'Mi Mujer' was being blasted at weird after-parties from California to Coatbridge). But the universal pull of a blues riff brought a kind of pop sensibility that opened the music up to anyone.
Single 'Paper Trails' was a sleeper hit. The band were already pulling crowds on the festival circuit. By tightening their music into a tidy three-minute formula, they could become gigantic. Tame Impala had capitalised on the same thing after the virality of 'Elephant' two years before, and made a pop album that went platinum. But that wasn't the path for Darkside. If anything, the band's focus on exploration only made the duo more curious and introspective in their approach. At the height of their success, they broke up, and kept on exploring. 
Harrington continued to be a fierce collaborator. Just last year, he released an ambient pop project with Benjamin Jay from Benoit & Sergio, and an instrumental album with Jeremy Gustin and Spencer Zahn. Both are wildly different and expectedly brilliant. Meanwhile, Nicolás Jaar now has perhaps one of the most varied and fruitful discographies in popular music. Since Psychic, he's released five solo records, two soundtrack albums, two utterly brilliant house albums under the name All Against Logic, and produced material for FKA Twigs' Magdalene. It's all stunning.
A lot has happened since Psychic. That's true for the world as well as the artists. The venue I first saw them in doesn't even exist anymore. It seemed like Psychic would be a one-off; rather than becoming a historical footnote or music nerd curio, the album has only become more captivating with time. Like the glowing orb on its cover, it seems alive and alien even now.
That aliveness was made viscerally apparent when the duo released a live album from the Psychic tour last year, revealing the interplay and connection all over again. What seemed like a nice nostalgia trip for fans was signalling the birth of a new record. Fittingly for them, rather than reliving the glory of that first album, Spiral finds new inspiration to dive into.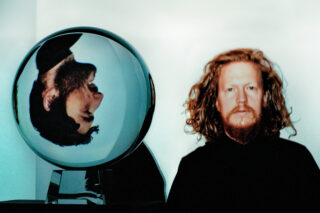 Spiral is a patient, introspective listen, one that hangs on storytelling more than atmosphere. It's deeply rewarding. Like on his recent solo material, Jaar has completely moved away from house on the record. The drum loops that do appear are fractured and lumbering; there's a focus on organic instruments – acoustic guitar, warm bass, piano and drum kits form the basis of most tracks, alongside custom made instruments that sound like ancient artefacts. The songs themselves are aching ballads and personal musings disguised as twisted rockers. Jaar sings throughout, his voice more upfront than ever.
The grooves remain downtempo and intimate, but the band are even less afraid to slow the tempo, or to pivot in a new direction. 'The Question Is To See It All' breaks into a fingerpicked guitar line at the chorus, backed by a ghostly organ. A minute later, it's been replaced by panning harmonic finger taps and spiritual hand percussion. The group zoom into the sonic details in the margins without sacrificing the gravitas. On 'The Limit', Harrington shrugs out an insanely impressive flamenco-inspired solo that hits just as the track is winding down.
The interplay that epitomised the first album is still integral, of course. Jaar regularly throws to Harrington for a solo. Like Prince, Harrington is a player who's cool enough to hide his virtuosic skill if it'll get in the way of the song. Instead, he'll play a sinister fragment of a solo, just enough for you to guess the full picture, then reveal pieces over the rest of the track. Opener 'Narrow Road' gives us a guitar line like that. It cuts through the track, split into wailing fragments, while Jaar constructs a ballad around it. Just as the climax is reached, the guitar cuts to silence, giving way to a new idea.
Despite the loose, in-the-moment approach, Spiral flows incredibly well. Darkside perform the high-wire act of making everything feel spontaneous and meticulously planned at the same time. As a result, each moment reinforces the next, benefitting the whole experience. Where Psychic aimed for catharsis within individual songs, Spiral widens the scope to the full album. After the melancholic slow-motion dirge of the title track, single 'Liberty Bell' feels weightier than it did when it was released, resetting the tension after that moment of calm. This extra patience in terms of structure gives the band a chance to truly flesh out each idea. 
Take the track 'Lawmaker'. It plays like a parable, with Jaar gradually narrating a story of a charlatan doctor who turns into a religious cult leader. It takes the political anxiety of his album Sirens and places it in Darkside's spiritual setting. It could be preachy if mishandled, and make it sensitive and meditative. Jaar has never been an incredible singer, but he's a human one, able to make a connection by staying restrained and letting the audience move closer to him. 
When the peaks do come, they're stunning. On an album of despondent songs that don't quite look you in the eye, 'Inside Is Out There' embraces you with open arms. The tickly hi-hats that propel the track feel like a giddy reference to the free-jazz break in a 'Whole Lot of Love', answered with an exhale of piano chords and gentle hums. It rides that feeling into infinity. As on the rest of the album, the silence and space between the notes are underlined, but there's a comfort to that silence here. 
'Only Young' is the big, ballsy closer the album has been secretly pulling towards, on which Harrington plays a huge melancholic solo to tie it all together. Like the previous track, it indulges in the band's clear love of rock's lineage. Doing so reveals that Darkside could well have been rock stars if they chose to be; but as they are, their echo might just last longer.
Please support Loud And Quiet if you can
If you're a fan of what we do, please consider subscribing to L&Q to help fund our support of new musicians and independent labels
You can make a big difference for a few pounds per month, and in return we'll send you our magazines, exclusive flexi discs, and other subscriber bonus bits and pieces
Try for a month and cancel anytime