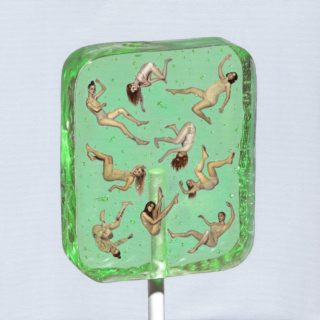 Daughters Of Reykjavik
Soft Spot
5/10
After the initial double-take, a nine-member Icelandic feminist rap super-group makes a lot of sense right now. Daughters of Reykjavik sit at the centre of a few key trends in music. There's the globalisation of pop with acts like Rosalía and J Balvin, while collectives like Brockhampton have combined the spirit of independent rap cyphers with the aesthetics of boybands. BTS manage to do both a bit of both at once, albeit ruthlessly focus-grouped approach. To their credit, these comparisons seem more lucky than intentional – the Daughters sprung up organically out of women-focused rap nights in the city back in 2013. They aimed to challenge the status quo of masculinity and sexist attitudes in the local scene, and this central passion and energy permeates their music. 
The group made international fans after a bawdy showcase at the Iceland Airwaves festival back in 2015, featuring topless waiters and commanding presence over the crowd. Five years on, they've strengthened their pengame, and forged distinct personas on record. Soft Spot is the sleekest collection they've released thus far.
Don't worry too much if you don't speak Icelandic. Their Facebook page is tagged with the word "shlengideng", a made-up nonsense word meant to capture the giddy verve of their music. They're fully aware that some listeners won't understand the nuances of their language, so their performances are emphasised with bluster and venom. The guttural bite and harsh consonance of Icelandic works well over more upbeat songs like 'Thirsty Hoes' and 'Songs to Kill Boys To'. 
The group's diverse influences work well for them too. Opener 'Late Bloomers' has a '90s R&B bounce, that works well against the band's stories of the manipulation young girls can be up against, and the resilience they have coming out the other side. On 'Fools Gold', the group read like a cutthroat inversion of the Spice Girls. 'Mile High Club' is a great example of how the band use their size to craft focused songs; voices weave back and forth while the groove remains propulsive and natural. 
There are good foundations here. But outside of catchy highlights, much of the album blurs together. It often pulls from contemporary trends without breathing new life into them. There are dated trap beats all over the album, that feel more royalty-free than luxury; the mix across the record is slightly flat, even when working with great ideas. The group have said in interviews that they got into rap music in part out of necessity – they had a need to share their voice but had little in the way of singing talent (which is event from the awkward piano ballad that finishes the album). Daughters Of Reykjavik could do more to inject a distinct musical personality to match their clear passion – when the music occasionally doesn't captivate, shlengideng can't do all the work.
Free Protomartyr flexi disc with this month's magazine
Subscribers to Loud And Quiet now receive a limited edition flexi disc of a rare track with their copy of the magazine
This month's disc is from Detroit punk band Protomartyr