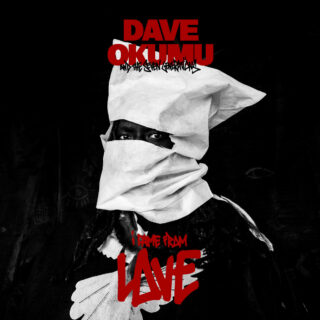 Dave Okumu & The 7 Generations
I Came From Love
8/10
Although I Came From Love is the first record Dave Okumu has released with The 7 Generations, it is by no means his first rodeo. The Vienna-born, London-raised artist first made his name as one third of Mercury-nominated indie innovators The Invisible in the late 2000s, and went on to collaborate with everyone from Amy Winehouse and Adele to Shabaka Hutchings and Tony Allen, lending his many talents as a guitarist, composer, vocalist or producer. In 2021 he released Knopperz, an instrumental album that was partially based on reworks of Duval Timothy's record from the same year, Sen Am.
Yet I Came From Love sees Okumu fully stepping into the spotlight as a solo artist for what feels like the first time – although his collaborative spirit remains, with Wesley Joseph, Kwabs, ESKA and the poet Anthony Joseph all lending vocals, not to mention his friend and frequent collaborator Grace Jones, whose unmistakable voice punctuates three of the record's 15 tracks. Also present is Tom Skinner (of The Smile and Sons of Kemet) whose peerless drumming underpins an album which ties together moments of trip-hop, afrobeat, jazz and art-pop. It's a record which is unflinching and uncompromising in its exploration of Blackness and what it is to be a person of colour in the UK and beyond in 2023. Okumu is academic in his approach, bringing in historical references alongside texts from Anothy Joseph as well as the poet Aimé Césaire, whose term 'negritude' Okumu borrows for standout track 'My Negritude'.
But while the record never shies away from the stark realities of racism past and  present – on opening track '2 Things' Jones recites a section of slaveowner Elias Ball's memoirs, while 'Blood Ah Go Run' takes the New Cross fire of 1981 (a suspected racist attack resulting in the death 15 Black teenagers) as its subject matter – the outlook is one of optimism, Black pride and radical love, and the songs themselves seem designed to make you move. It makes sense that someone who has built his career on collaboration would be a staunch advocate for the power of collective action, and I Came From Love is a rallying cry, made ever more engaging by its catchiness and danceability.
Free Protomartyr flexi disc with this month's magazine
Subscribers to Loud And Quiet now receive a limited edition flexi disc of a rare track with their copy of the magazine
This month's disc is from Detroit punk band Protomartyr