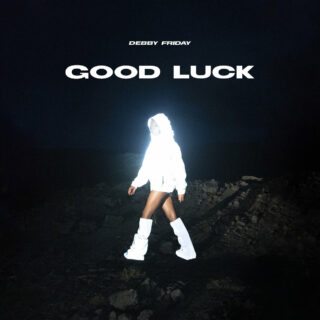 ALBUM OF THE WEEK
"Don't you fuck it up / Give it what you got," sings Debby Friday in the opening moments of her debut record, GOOD LUCK. The Nigerian-born, Toronto-based artist has produced a coming-of-age record that candidly deals with past mistakes as well as inserting positive affirmations to serve as reminders to continue growing as both a person and artist. In her lyrics, there's evidence of a life lived and lessons learned, both in the personal and professional sphere. "You're just a young girl / All alone by yourself in the city / Act like you don't need help," she intones, with an endearing vulnerability in her cadence on 'So Hard To Tell'. A few songs later, 'Pluto Baby' ushers in a far more assured Friday whose unflinching presence is magnetic not only on this song but throughout the record.
Metallic timbres and industrial beats provide solid foundations to these ten instantly immersive and infectious arrangements. An overarching Y2K sensibility dominates some of the electronic elements woven into the defiant musical personality of the propulsive centrepiece 'Hot Love' and the pop-tinged 'Heartbreakerrr', which already feels like an instant classic designed to be sung late into the night. Elsewhere, Friday injects tonal variety towards the end of the LP with the sultry (and slightly unexpected) 'What A Man' melding a Cure-esque bass riff and a Slash-like solo within a nocturnal setting, yielding similarly magnetic results in the way these worlds collide in an Yves Tumor tune.
There's an extraordinary elasticity across GOOD LUCK's masterful production that makes repeated listens not just enjoyable but irresistible. Friday establishes a great sense of balance throughout the ten tracks. From the industrial, claustrophobic gloom of the album's title track and 'I Got It' to the sweeter and more spacious compositions, Friday moves seamlessly through these deftly-engineered soundscapes. There's always something new to hone in on and further draw you into this immensely multi-faceted body of work that further illuminates her dexterity as a songwriter and performer. It's in these moments, and her faultless portrayal of GOOD LUCK's commanding protagonist, where we can see the artistic evolution since the release of early EPs Bitchpunk (2018) and Death Drive (2019).
If there's only one thing to be said about Debby Friday's poised debut it's that she most certainly gave it all that she's got.
Free Protomartyr flexi disc with this month's magazine
Subscribers to Loud And Quiet now receive a limited edition flexi disc of a rare track with their copy of the magazine
This month's disc is from Detroit punk band Protomartyr