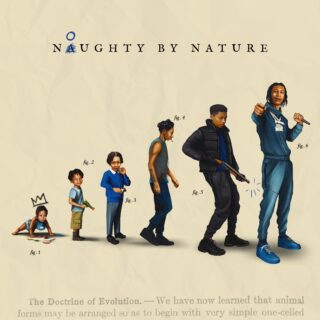 Digga D
Noughty By Nature
(CGM)
7/10
It's within the realms of possibility that West London Drill artist Digga D's most committed listeners are those working inside Scotland Yard. 
As detailed in 2020's excellent BBC Three documentary Defending Digga D, Digga D, real name Rhys Herbert, must notify the police within 24 hours of releasing new music, as well as providing them with the lyrics. Based on the Old Bill's discretion, if his words are believed to incite violence, he can be sent back to prison as a violation of parole. It's part and parcel of the uniquely disquieting 'Criminal Behaviour Order' he was saddled with after his 2018 sentencing.
This Kafkaesque circumnavigation of expression, artistry, and meaning is, at heart, institutionally repressive. However, this is the terrain that Digga D must traverse for now. And his third mixtape Noughty by Nature is a curious update on the artistic progress made by one of drill's certain breakout-stars-to-be. One that shows Digga D has one foot in drill, and the other starting to make serious steps towards the mainstream – without much in-between.
The first half of Noughty by Nature feels welcomingly familiar. Tracks are concise and compact, hovering between two and three minutes. Lines are delivered hard, with bars usually finishing up on the trap kick. The gloomy nighttime mix of twinkling minor keys and deep absorptive bass descends like a fine mist that the numerous features on this release emerge from. Names of London locations, gangs, and certain individuals are redacted like a released FBI file, for Herbert's own judicial protection you presume. 
Of these more typical UK drill cuts, 'Pump 101' is the pick of the bunch. The song is a diary of beefs, embargoes, and second-thoughts. The London map rewritten as an Iain Sinclair-like web of trapped spirits, foreboding council estates, and sinister patterns. The track's wonky vibe is a direct homage to G-Unit's 'Stunt 101', with the beat lifted and an entire verse delivered by Digga D in a 50 Cent cadence that has the stutter and poise of a Jorginho penalty. It's an instance of UK drill's newfound proclivity to wholesale sampling done well.
However, beyond Digga D's bread and butter of ferocious UK drill, there are a slew of tracks that might appeal more to the Heart FM listeners than bent coppers. 
'Addicted' and 'Let it Go' are visions of a future Digga D, both produced by in-demand pop producer Jake Gosling. Lathered in percussion and strings, the sound is airy, slow, and portentous, harbouring a composed, eerie calm, like a chapel in a warzone. At times, Digga D's gliding flow feels more attuned to the orchestral than the synthetic 808s and hi-hats found elsewhere, allowing his bars to fly rather than to punctuate. Digga's vocals are notably improved too, lending a heart and intensity to these cuts, with the hooks finding a way to get under the skin. The unlikely chorus of "I'm addicted to this drillin' shit" is exactly as catchy as you presume it wouldn't be.
On the stand-out 'Statement', another brittle self-reflective track which has little more than a violin guiding it, Digga D shows his cards and makes his grand proclamation, "I'm as hard as Stormzy and Dave, what a statement to make, but I say what I say and I mean it". Despite the highs found on Noughty by Nature, it feels aspirational rather than actual for the time being.
While all the pieces are here on this Noughty By Nature to achieve a truly distinctive sound, they feel too cleanly compartmentalised. What the mixtape truly misses is a bleeding-together of the different sides of Digga D – a distinct sound that truly encompasses the many qualities of this dynamic young talent. You feel it is coming. But for right now, this is another step in the right direction rather than the end destination.
Help keep Loud And Quiet going
As an independent title, it's become harder than ever to make the numbers add up.
We never want to charge artists and labels for our content so are asking our readers and listeners if they can help.
If you enjoy L&Q, please consider signing up to one of our membership plans to receive our magazines, playlists, podcasts, full site access, record discounts and more. Pay per month to try it out and see how you feel.