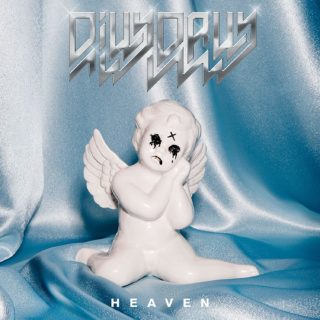 'Heaven', the second album from Canadian rockers Dilly Dally, is a glorious contradiction. Downbeat and doom-laden in sound it's an album that mixes fuzzed-out ferocity with calm optimism. In some senses it's dealing with a crash. Having paid their dues in their hometown punk scene in Toronto and debut 'Sore' delivering some success the pressure of touring caused a minor implosion.
In limbo frontwoman Katie Monks retreated to write alone. The results were dreamlike and drone-drenched melodies over which her rasping and raw vocal poured from her subconscious. It was only then that she got back in a room with the rest of the band and producer Rob Schnapf (Elliot Smith, Beck).
And together they only sharpened, not smoothed, the edges of those songs. There's a nursery rhyme quality underlying 'Sorry Ur Mad', while the full volatility and velocity of the rhythm section is unleashed on opener 'I Feel Free'. Adding to the variety, there's a distorted garage rock jangle to 'Pretty Cold' and a pounding doom metal to 'Bad Biology'.
So, the songs do sound urgent, but it's also proof that positivity can as potent as fury in getting the message across. Dilly Dally have survived the turbulent early years of being in a band, and despite of some of the difficulties 'Heaven' is an album that looks up instead of down.
Free Protomartyr flexi disc with this month's magazine
Subscribers to Loud And Quiet now receive a limited edition flexi disc of a rare track with their copy of the magazine
This month's disc is from Detroit punk band Protomartyr