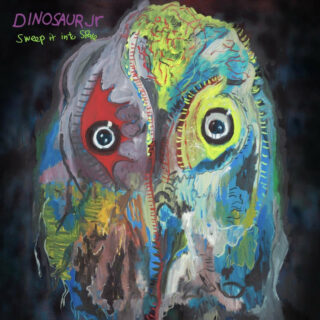 Dinosaur Jr
Sweep It Into Space
7/10
J Mascis has never come across as a man who spends too much time worrying about anything – his reputation as stoner guitar wizard a keenly-earned one – but he might have been forgiven for wondering about the long-term viability of Dinosaur Jr when he got the band back together in 2005, given past bust-ups with Lou Barlow and the rooting of the group's sound in the kind of sonic palette that came to define '90s alt-rock, long since passé by the mid-'00s. If so, his fears have proven unfounded; the group's progression into middle age has been characterised by its elegance. 2012's I Bet on Sky remains a dark-horse candidate for the title of the band's best record, 2016's Give a Glimpse of What Yer Not was a sumptuous slice of riff-driven grunge-pop, and now, Sweep It Into Space provides yet more compelling evidence that Mascis has zeroed in on what it is that makes the band tick: melody. 
This is a handsome, hook-centric affair that, despite the familiar crunch of the guitars and the suitability of the album to be blasted at high volume, seems to have learned lessons from Mascis' stately collection of recent solo releases; this might be the breeziest Dinosaur Jr. record yet, especially on the woozy likes of 'I Ran Away' and 'I Expect It Always'. Barlow's contributions, meanwhile, are imbued with the group's freewheeling DNA, enough so to set 'You Wonder' and 'Garden' apart from the straightforward scuzz of his recent Sebadoh songs. Perversely, Sweep It Into Space's familiarity is what makes it feel refreshing; in an ever-more-uncertain world, there remain a handful of constants: death, taxes, and the unwavering ability of Dinosaur Jr. to turn in an irresistible guitar-pop odyssey.
Read J Mascis in conversation with Kurt Vile, who produced Sweep It Into Space, in the latest issue of Loud And Quiet.
We're not being funny...
… but can you become a member please?
It's actually excellent value, and will help us continue to promote new independent artists and labels.
Sign up and you'll receive our physical magazines delivered to your door, our digital editions, exclusive podcasts and playlists and an actual bookmark, as if printing a magazine in 2021 wasn't old fashioned enough.
6-month and full year memberships are available now. Fancy it?