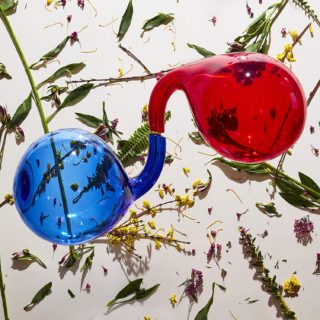 Dirty Projectors
Lamp Lit Prose
(Domino)
7/10
Alice Deejay once posited 'Who Needs Guitars Anyway?' as the title of her one and only album. No doubt preoccupied with the giddy trance pop days of the early 2000s, she probably didn't give the question as much thought as David Longstreth has over the last few years.
Plagued by doubts as to whether Dirty Projectors had a future after the departures of long-time collaborators Angel Deradoorian and Amber Coffman (and the grimacing end of his relationship with the latter) Longstreth wasn't sure the band had a future in the aftermath of that turmoil. But after finding a sense of clarity in some words of wisdom from heavyweight rap producer Rick Rubin, instead of ending the Dirty Projectors name, Longstreth deviated from the multi-layer harmonies and twisting guitar lines in favour of the electro-funk and futuristic RnB that surfaced on the convincingly self-titled 'Dirty Projectors'.
Essentially Longstreth's breakup album, it was a reaffirmation of the name he'd come to doubt, even if it also constituted an unlikely switch in style. A world away from the experimental indie-rock that had defined both him and Dirty Projectors for the last decade, it was a sound more in-line with his work away from the band as a writer, producer and composer for Rihanna, Paul McCartney, Solange, Joanna Newsom and Kanye West.
Inspired by that mental break and armed with a fresh sense of perspective and conviction, Dirty Projectors' revolving door troupe of creators and collaborators rolls on – with a refreshed Longstreth, as always, the chameleonic epicenter. There's no doubt that the creative control he exerts make him difficult to work with – both Coffman and Deradoorian alluded to as much in interviews – but with Dirty Projectors members reaching a long-list of 30-plus, past and present, Longstreth's vision remains a pretty compelling one to be part of.
So, if 'Dirty Projectors' was both Longstreth's personal catharsis positive statement on Dirty Projectors' longer-term future, 'Lamp Lit Prose' is the recommitment to more familiar sounds and structures. Without Coffman and Deradoorian, the reality is that there will never be another 'Bitte Orca', and the dynamics that arguably made that album the band's defining work are beyond the point of repair, but Longstreth's opaque creative vision has always ensured that the band can evolve.
And even where 'Dirty Projectors' reached an almost grisly honesty as Longstreth put his broken relationship with Coffman under an often brutally granular microscope, these new songs are, for the most part, a much happier, less hostile expression. The guitars are back and Longstreth's influence feels more ubiquitous than usual; his darting vocals, his writing guitar lines, his place as the de-facto ringleader reasserted and assured without distraction. This is post-breakup beard Dave, out of the darkness and into the California sunshine Dave, clean-shaven and in his new suit.
At face value, many of these track names ('Right Now', 'Break-Thru', 'I Feel Energy') convey that optimism, but knowing Longstreth's proclivity for the oblique, as ever, there are still a few contrasts and trapdoors to fall through. On opener 'Right Now' there's a sense of reflection but it's less rooted in accusatory questioning and more lingering thoughts. He's admitting that "I might sing the melody, but I don't set the tempo" and "I don't know how I'm gonna be the better man / I don't know how I'm going to reach the promised land."
That could have been a klaxon call for another hefty bout of over-analysis but before anything gets too heavy or introspective, the unyielding positivity of 'Break-Thru' – and its music video of a smitten Longstreth sat there in a David Byrne suit inside an IKEA-inspired menagerie, cheerily holding poses, singing about a beautiful girl to a slapping beat and an earworm of a guitar line that's going to jump straight from the radio airwaves into your brain – blows all of those assumptions away.
'I Feel Energy' is equally upbeat, bursting into life on a carnival of cowbell and duelling falsettos, but lurking just behind the unabashed feel-good a line like "Sometimes I got so depressed, I can't move" contradicts the bright bustle. 'That's a Lifestyle' then has everything to be peak Dirty Projectors ­– Longstreth's cart-wheeling vocal, dense yet intricate melodies spinning, contorted guitar carving through it all – but you can also pinpoint the moments Coffman and Deradoorian's vocals would have elevated it even further.
It's a similar story on the crashing energy of 'I Found It In U' as a double-speed Longstreth competes with breakneck drum fills and little blasts of highly-wound melodies. Again, you find yourself waiting for a wave of mellifluous sweetness that never comes. What's interesting, though, is that although 'Lamp Lit Prose' weighs in guest-vocal heavy (five tracks of the ten), they barely register amidst Longstreth's vocal omnipresence. Here, he is more pronounced than ever. Rarely relinquishing the spotlight, his voice comes at you from all angles. On 'What is the Time', he's slow, soulful and centre stage, imploring "What is the time when I can call you by your name?", on 'You're the One', Fleet Foxes' Robin Pecknold and former Vampire Weekend member Rostam Batmanglij play their supporting roles subtly, and on both 'I Feel Energy' and 'Zombie Conqueror' Amber Mark and Empress Of at least manage to get the odd chorus in.
It's left to 'I Wanna Feel It All' to slow everything down to a crawl in a softly sung Film Noir number that delivers a twist on lounge jazz falling somewhere between Jessica Rabbit and Flying Lotus. It's a curiously low-key combination, even without what's presumably a symphony of recorders fading the album to a close.
It's a finale that nods towards an artist only at his most content when confounding and creating questions; where the logic isn't always apparent to anyone but Longstreth himself. His disdain for interviews is well known but you also feel there's an off-hand delight in throwing random musical curveballs, and in Dirty Projectors' long, fluid history, change is always good, as long as Longstreth is the one orchestrating it.
It's that single-mindedness that has always made this project, for better or worse, Dave Longstreth's band, and while the relationship between the man and the name has become much less co-dependent over the years, you can't really imagine one truly existing without the other.  Sure, relationships have broken down and Longstreth's public catharsis wasn't always pretty, but his strength has always been grounded in the special kind of stubbornness that's enabled Dirty Projectors to stay interesting and endure.
'Lamp Lit Prose' isn't the return to happier, halcyon days, and nor could it ever be, but after what preceded, it's a reminder of what's made the band such a magnetic listen over the years. It's still music with brains, angles and layers Longstreth dares us to try and unravel, and while it shows he's not totally over everything that's happened, there's enough to suggest that he's at least in a better place. And when it comes to Dirty Projectors, you get the sense that's all that's ever really mattered.
Please support Loud And Quiet if you can
If you're a fan of what we do, please consider subscribing to L&Q to help fund our support of new musicians and independent labels
You can make a big difference for a few pounds per month, and in return we'll send you our magazines, exclusive flexi discs, and other subscriber bonus bits and pieces
Try for a month and cancel anytime