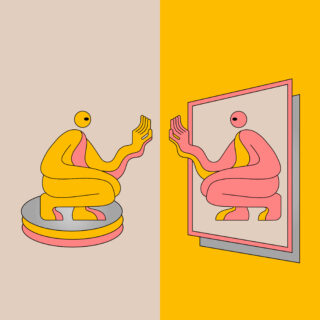 If you didn't know already, you might not guess that Mirrors is is the successor to DJ Seinfeld's Time Spent Away From U, the album that included the 2017 smash hit 'U', a lo-fi house co-anthem alongside scene backbenchers like Baltra, Mall Grab and DJ Boring. They were simpler times: this was dance music's answer to vaporwave, lapped up by teens and 20-somethings taking their first steps into the world of electronic music beyond their parents' iPod classic playlists of New Order and Heaven 17.
With visuals of gloopy Simpsons characters imprinted on our warped memories, DJ Seinfeld levitates out of his inaugural musical identity and refines his sound. He achieves this by pairing a tasteful reconfiguration of commercially bubble-wrapped deep house with garage-tinged breaks and melancholic trance hooks, all the while refurbishing remnants of the short-lived lo-fi explosion.
The vocal samples are superficially simple, the riffs pleasant. Yet these qualities are what seem to hold this album back from really letting go. There are pockets of sentiment, like the breakdowns of 'These Things Will Come To Be' and warbling vocal skits of 'Song For The Lonely', but the intermittence of genuine emotion seems to be overridden by a desire for mass appeal. Is that a negative thing? Maybe not for most, but it is for me.