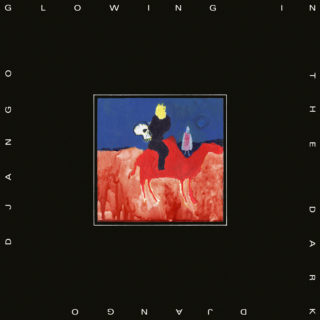 Django Django
Glowing In The Dark
(Because)
9/10
Writing a band's bio is a very subtle chiseling job: to master it, it's necessary to balance the most compelling storytelling with fascinating, truer-than-true pieces of information to render an idea of natural talent mixed with the group's hard work.
It's thus peculiar to learn from Django Django's official introduction to their latest effort that "several tracks for Glowing in the Dark were written specifically to fit precise junctures in their set (which is, as Vinny says, already crafted 'to draw a line of links from acoustic stuff through the electronic, rhythmic thing, through to something more raucous and rockabilly')." What good can an album of self-described fillers really be? 
Yet, the British four-piece have managed to pen another excellent LP – their most distinctive and mature so far, anticipated by singles remixed by, amongst others, MGMT and Hot Chip, and featuring the vocals of Charlotte Gainsbourg (on 'Waking Up', one of the best songs here). Multifaceted and polyhedral, the sound of the thirteen tracks is cohesive and coherent, blending together some of the most interesting genres of the last six decades – psych-pop, space rock, garage, krautrock, Madchester, the '00s indie revival, even folk – with ease and lightness, like Psilocybin-induced visions. Just like the luminescence emitted by a substance that has absorbed the energy around it, Glowing in the Dark beams softly, sparing us from the obscurity of present times.
We're not being funny...
… but can you become a member please?
It's actually excellent value, and will help us continue to promote new independent artists and labels.
Sign up and you'll receive our physical magazines delivered to your door, our digital editions, exclusive podcasts and playlists and an actual bookmark, as if printing a magazine in 2021 wasn't old fashioned enough.
6-month and full year memberships are available now. Fancy it?