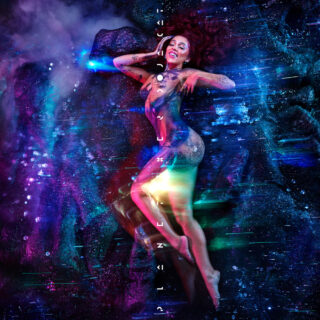 Doja Cat
Planet Her
(RCA)
5/10
Like many emerging pop stars, Doja Cat first made it as a meme. Dressed as a cow in front of a dodgy green screen with fries up her nose, she stumbled onto a viral hit. The unexpected breakthrough of 'Mooo!' couldn't have been planned, and that messy presentation was part of the charm. But through an ever-increasing collection of hits, Doja Cat has proven herself to be a natural pop star. 'Mooo!' introduced the world to a refreshingly open, charismatic and at times controversial artist, with clear talent hiding under all that cow print.
Her first two albums are peppered with versatile, raunchy and undeniably catching songs, pivoting from high-gloss pop and zany rap bangers with ease. Planet Her doubles down on the success of tracks like 'Say So', zeroing in on breezy R&B and trap-pop instrumentals. There's a vague intergalactic concept to the visuals, but she's largely working with the same tested formula.
It's a high-budget chart album in every sense, often to its detriment. The reggaeton-inspired 'Woman' and the following 'Naked' start us off with summer sex jams that are calculated and predictable – and include a few awkward bars ("let me cordially invite you to the party in my pants"). While Doja Cat has the magnetism to sell it, the oddly stilted instrumentals don't. The album often forgets that fun and spontaneity sell this kind of song. 
The fun is also sapped away from single 'Kiss Me More' when you discover that it was produced by Dr. Luke, Doja Cat's label head. Luke has faced a wave of abuse allegations from artists in his care, including Ke$ha. Planet Her's appeal is tarnished, given this is the album that sees him casually returning to the charts – though frankly, the Luke-produced songs weren't that memorable to begin with. 'You Right', featuring The Weeknd, is an ugly anti-love song about cheating on your partner, to the surprise of no one.
The album shines when Doja Cat follows her impulses rather than trends. On 'Payday', she matches Young Thug's oddball vocalising with infectious mini-hooks that are buoyant and smile-inducing. 'Ain't Shit' is another highlight – a 'fuck you' anthem that earns it's subtle digs at Nas, with gratifyingly childish insults and a villainous delivery.
New monthly memberships available
Here's a new thing: our membership scheme now has a pay-monthly option, plus a load of exciting new digital stuff for people who support what we do. It's actually excellent value, honest, and will help us continue to promote new independent artists and labels.
Sign up and you'll receive our physical magazines delivered to your door, our digital editions, exclusive podcasts and playlists and access to our EXTREMELY glamorous Members Lounge. You'll be the envy of all your friends.