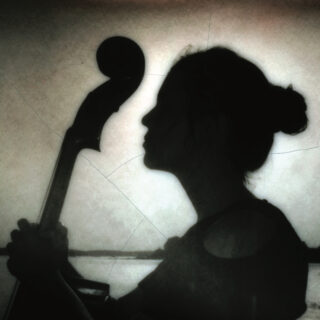 Dom La Nena
Leon
(Sabia)
8/10
When Dominique Pinto was eight years old, her parents bought her a cello for her birthday. Pinto's childhood and teenage years were itinerant: she moved from her home in Porto Alegre, Brazil to Paris, back to Brazil, then to Buenos Aires and then back to Europe again. That instrument, which she nicknamed Leon, was the one true constant of those years, a settling presence that focused her passion. Now, twenty years later, for her fourth solo album, Pinto returns to that first love, and to Leon himself, for a collection of solo cello pieces that tell the story of the accomplished artist that she has grown up to be.
Having acquiring the name 'La Nena' or 'The Young Girl' from the 'goddess of cello' Christine Walevska, under whom she studied in Argentina, Pinto recently recorded the songs that comprise Leon over two weeks of isolation, just Dom, Leon and an empty page. 
Storytelling is paramount, and on the track 'Last Day', it is impossible to escape the sense that the tale Pinto is spinning is autobiographical, one that addresses her own personal artistic endurance, and the salvation and freedom that is hers when locked in confinement with nobody but Leon for company.
'Dulac' finds her playing highly lyrical melodies, over which listeners will imagine vocal lines, and indeed will find it difficult to resist singing along to; there is almost a whisper of the "Why she had to go…" refrain from 'Yesterday' in the air of the piece. 'Arabesque' is elegant, the lightness of Pinto's fingers and the weightlessness of the arrangement allowing the track to glide gracefully, while wordless vocals hover high above, alluring and seducing the music ever higher into the majestic either.
'Temporal' is gently mournful, its heart swelling, and 'Valse' is a stately waltz through the history of that form, while 'Longe' is bewitched by strangely otherworldly, mutant sounds that sound like she has sampled ghostly howls. 
And then with the track '2022', Pinto, having shown us her past, shows off the full range of her present and future. No longer the novice apprentice or wide-eyed young girl opening her present, but an accomplished, highly developed writer and performer. She embraces nuance, comfortable pushing her playing into strange and challenging territory. We hear the rattle of the body of the cello, percussive echoes that give the heart cause to pound. Pinto stands tall, an artist reaching the apex of her power.
Free Protomartyr flexi disc with this month's magazine
Subscribers to Loud And Quiet now receive a limited edition flexi disc of a rare track with their copy of the magazine
This month's disc is from Detroit punk band Protomartyr