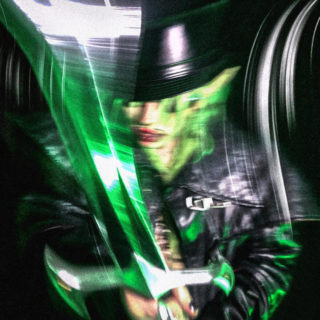 Dorian Electra
My Agenda
7/10
"We're born naked, and the rest is drag," said one icon in the world of fracking. Dorian Electra pushes the performance of gender to wonderfully silly extremes in their music, which borders art, novelty song, and meme. Their debut Flamboyant was an alt-pop revelation, mining gold out of a deeply human response we don't talk about enough – cringe factor. Songs like 'Daddy Like' and 'Career Boy' were catchy, layered songs about absurd machismo and power fantasies, delivered with a deadpan stare.
Their follow-up, My Agenda, is even more intense. There are character studies of r/gamer stereotypes, features from Rebecca Black and Village People, crushingly obvious metaphors about melted plastic hearts, and songs that feel somehow way too honest and completely irony-poisoned. Buckle in. This is a Very Online album. Your enjoyment is going to depend largely on how quickly you got tired of 'Money Machine'. For a project under thirty minutes, it's a lot. 
Musically, Electra sources the most dated and tacky sounds to work with. If you're embarrassed about having it on your iPod, My Agenda has gobbled it up with a side of Baja Blast. Much of the album sounds like waltzer music dipped in magnesium and dubstep. If you've been following what PC Music have been doing even tangentially, you've heard it before, which works for music meant for an audience desensitised from going on /b/ too many times. The beats service more as a continuation of the joke. Electra uses trap, hardstyle and shock rock the same way Weird Al used polka. 
But what makes the songs here so replayable, what pushes them beyond novelty, is the glorious fixation on emotional extremes. Embarrassing and uncomfortable thoughts are its lifeblood. Its characters are people that are often the butt of the joke. 'M'lady' is a fedora-tipping dom who's literally mouth-breathing at the breakdown. 'My Agenda's protagonists are the crazed SJWs turning the frogs gay with witchcraft. 'Edgelord' lives in a society. 'Sorry Bro (I Love You)' is an extended no-homo joke that has genuine sweetness lurking under its smirk. 
Closer 'Give Thanks to You' might be the funniest, darkest thing Electra has penned so far. Who else is writing ballads with lines like "As you f*** my face, for a hundred days…"? (Taylor Swift mondegreens notwithstanding.) There's something deeply entertaining about a skilled pop musician making something so dumb so unbelievably polished. But then again, there are hardly any memers more dedicated to the bit than Dorian Electra.
Free Protomartyr flexi disc with this month's magazine
Subscribers to Loud And Quiet now receive a limited edition flexi disc of a rare track with their copy of the magazine
This month's disc is from Detroit punk band Protomartyr