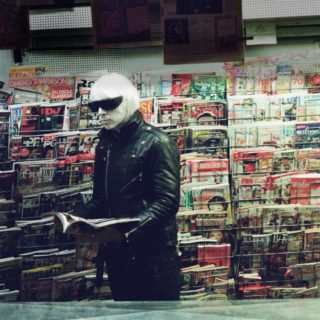 Drab Majesty
Modern Mirror
(Dais)
7/10
Drab Majesty are Deb Demure and Mona D., the androgynous, mannequin-esque alter egos of multi-instrumentalist Andrew Clinco and collaborator Alex Nicolaou. With their chalk-white painted faces and massive black shades, they're a Patrick Nagel print come to life. Together, they make dark, ghostly new wave replete with gated snares, moody synth pads and reverb-washed guitars.
Citing the Greek figure Narcissus – who wasted away after becoming obsessed with his own reflection – Modern Mirror is a cautionary tale warning of the perils of self-obsession in the age of Tinder. "Two modern minds won't say what they want to/ To push a button in real time," Demure sings on 'Ellipsis'. On 'Long Division' he laments "long-distance silence", as the breathy vocals of No Joy frontwoman Jasamine White-Gluz linger like a spectre.
Modernising the story of Narcissus to underscore its relevance today is a pretty novel concept, although the negative impact technology is having on our ability to form meaningful connections is well-trodden ground, and the album doesn't offer much new insight on that front. Still, while Modern Mirror's social commentary lacks bite, it remains a world away from the empty '80s nostalgia in vogue – Drab Majesty's neon-soaked soundscapes do at least feel fully realised and lived in.
Free Protomartyr flexi disc with this month's magazine
Subscribers to Loud And Quiet now receive a limited edition flexi disc of a rare track with their copy of the magazine
This month's disc is from Detroit punk band Protomartyr