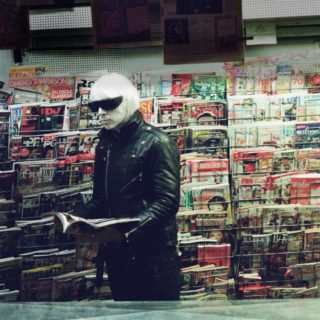 Drab Majesty
Modern Mirror
(Dais)
7/10
Drab Majesty are Deb Demure and Mona D., the androgynous, mannequin-esque alter egos of multi-instrumentalist Andrew Clinco and collaborator Alex Nicolaou. With their chalk-white painted faces and massive black shades, they're a Patrick Nagel print come to life. Together, they make dark, ghostly new wave replete with gated snares, moody synth pads and reverb-washed guitars.
Citing the Greek figure Narcissus – who wasted away after becoming obsessed with his own reflection – Modern Mirror is a cautionary tale warning of the perils of self-obsession in the age of Tinder. "Two modern minds won't say what they want to/ To push a button in real time," Demure sings on 'Ellipsis'. On 'Long Division' he laments "long-distance silence", as the breathy vocals of No Joy frontwoman Jasamine White-Gluz linger like a spectre.
Modernising the story of Narcissus to underscore its relevance today is a pretty novel concept, although the negative impact technology is having on our ability to form meaningful connections is well-trodden ground, and the album doesn't offer much new insight on that front. Still, while Modern Mirror's social commentary lacks bite, it remains a world away from the empty '80s nostalgia in vogue – Drab Majesty's neon-soaked soundscapes do at least feel fully realised and lived in.
New monthly memberships available
Here's a new thing: our membership scheme now has a pay-monthly option, plus a load of exciting new digital stuff for people who support what we do. It's actually excellent value, honest, and will help us continue to promote new independent artists and labels.
Sign up and you'll receive our physical magazines delivered to your door, our digital editions, exclusive podcasts and playlists and access to our EXTREMELY glamorous Members Lounge. You'll be the envy of all your friends.