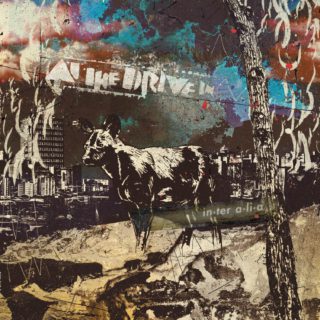 At the Drive-In
in•ter a•li•a
(Rise)
8/10
For 17 years it seemed likely that the final, twitching notes of 'Non-Zero Possibility', the closing track on 2000's 'Relationship of Command', would be the last we'd hear from At The Drive-In. That's because the El Paso group didn't disband, they imploded following the release of that now seminal album. It took 12 years to patch things up, another five to write new material (minus one founding member, Jim Ward).
In 2017, the jeans aren't as tight, the scissor kicks not quite as high, but the urgency and their iconic afros remain. For a band mythologised for their chaotic live shows, it's an achievement to conjure that discordant spirit on record almost two decades on. The production's slicker, but it's all still built around Omar Rodriguez-López's spidery guitar work and Tony Hajjar's pummelling drums. 'No Wolf Like The Present', 'Governed By Contagions' and 'Hostage Stamps' are the standouts in a set that's recognisably ATDI, but also wilfully tries to open a fresh chapter.
For a band who spawned a whole slew of copycats, it's a relief to discover that still no-one does it better.
Free Protomartyr flexi disc with this month's magazine
Subscribers to Loud And Quiet now receive a limited edition flexi disc of a rare track with their copy of the magazine
This month's disc is from Detroit punk band Protomartyr