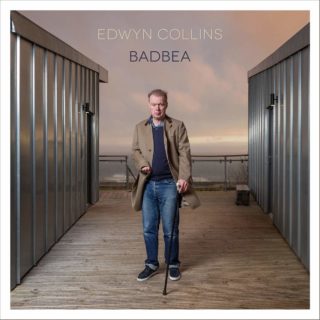 Edwyn Collins
Badbea
(AED)
7/10
In 1980 Orange Juice released 'Blue Boy' – a frenetic tribute to Buzzcocks' Pete Shelley that carried all the wonky enthusiasm of getting properly drunk for the first time. Orange Juice's breakthrough hit, 1982's 'Rip It Up', quoted not only the lyrics to Buzzcocks' 'Boredom' but its two-note guitar solo too. Months after Pete Shelley's sad death this unlikely trilogy is now complete, with 'Outside' – the lead single from Collins' ninth album, 'Badbea', and a chiming siren of power pop that could have landed straight from 'Singles Going Steady'.
There's a certain amount of redemption in all of Collins' releases since his stroke – documented gorgeously in the 2014 documentary 'The Possibilities are Endless' – and 'Badbea' is no exception. This is most explicit on ballad 'Beauty', a track of quiet dignity, centred on desperation and not giving into it.
One of the most gifted, and certainly the most charming, lyricists of the post-punk generation, the savage wordplay and long-form character studies that typified records like 'Gorgeous George' are now behind Collins. Instead, he's found a brilliant lyrical minimalism; with a weathered croon such as his, simple phrases carry a wit and a poignancy hard won over his own personal struggles and his enduring relationship with his audience. Sure, there's not much here that hasn't been covered on Collins' last two solo records, but there's plenty to enjoy nonetheless – not least the Dexys-infused, blue eyed soul of 'In the Morning', or the fuzzy garage psych of 'Tensions Rising'.
The most progressive track on the record is also the most reflective – the funky, LCD-esque 'Glasgow to London', which sees Collins looking back on his younger self "back in the '80s/ Wild and free", whilst appearing glad to shrug off his youth and the English capital, now firmly behind him. "Look at the state of me!" he exclaims, "but I don't mind."
Free Protomartyr flexi disc with this month's magazine
Subscribers to Loud And Quiet now receive a limited edition flexi disc of a rare track with their copy of the magazine
This month's disc is from Detroit punk band Protomartyr