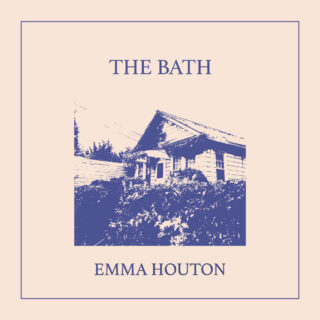 Clearly, if you had penned a hulking 100-page score for a choir of eight, and then gone to the trouble of assembling a group of vocalists, you'd be feeling pretty beat when Covid made the idea almost immediately impossible to execute. Instead, finding herself in this bind, the New York-raised, Irish-American vocalist, songwriter and composer Emma Houton got herself a loop pedal. Choir-less, and confined to her flat, she recorded all of the score's vocal parts alone. The Bath, released via Trapped Animal, is the arrestingly blissful result. 
Opening the album is a short, multitrack vocal arrangement 'Candle for the Holy Ghost'. Using her loop pedal, Houton splits her mellifluous vocals into a multitude of Julianna Barwick-like repetitious layers. The reverb effect here, and across The Bath, is cavernous. There's a sense of stillness to be found on the album's purely ambient tracks, like 'Gemini' and 'Going Home'. This is where the vocal soundscape can feel most captivating, a bit like sitting deep in a cathedral, immersed in a wall of seraphic sound from the in-house choir. 
Elsewhere on The Bath, Houton employs a patchwork of lyrics from traditional Irish folk ballads over the album's choral loop. In the album's centrepiece, 'Bow and Balance', two sisters meet a gnarly end in an arrangement of the Irish folk ballad 'The Twa Sisters'. Whilst in 'Watershed', 'Idumea', and 'Waiting', there's a thread of Houton's Methodist grounding running through, as she muses on purification, drowning and not being enough. There's a slightly intense tendency to dwell on the darkness in Houton's lines in a way that, after this past year, can begin to feel a bit jarring. It's the expert, intricate arrangement of the layers and layers of vocals on this debut album from Emma Houton that linger, and take hold. 
New monthly memberships available
Here's a new thing: our membership scheme now has a pay-monthly option, plus a load of exciting new digital stuff for people who support what we do. It's actually excellent value, honest, and will help us continue to promote new independent artists and labels.
Sign up and you'll receive our physical magazines delivered to your door, our digital editions, exclusive podcasts and playlists and access to our EXTREMELY glamorous Members Lounge. You'll be the envy of all your friends.