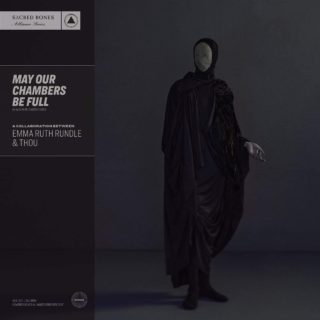 Emma Ruth Rundle & Thou
May Our Chambers Be Full
8/10
In an oblique kind of way, May Our Chambers Be Full, the debut collaborative LP by lower-case-s singer-songwriter Emma Ruth Rundle and sludge dreamers Thou, brings to mind The Flaming Lips' brief stint as Beck's backing band during a 2002 tour. Both contemporaries on the road less travelled, they eluded each other for over a decade, even though their musical chemistry illuminated how they'd been singing from the same hymn sheet the whole time. Likewise, May Our Chambers Be Full isn't the dramatic cultural exchange it appears to be on paper. Instead, what it serves is to highlight each individual acts' overlooked or under-appreciated strengths.
In Thou's case, their outsider status within the sealed fortress of metal shows on 'Killing Floor' better than on most of their solo releases, and it's in most part due to the melodic sloping of Rundle's vocals. It recalls My Bloody Valentine's 'Only Shallow' fed through a punishing filter of heaviness, and waltzes to the rhythm of something from Cocteau Twins' Heaven Or Las Vegas. At the tail end of May Our Chambers Be Full, the epic 'The Valley', Thou steep Rundle's simmering vocal ("just another fucked up thing I can't save", she sings) in mournful violins and a tom-heavy march. While Rundle's usual style isn't heavy in any metal sense, the general sense of foreboding in her finest work — and count this amongst it — serves as a reminder of how weighty her music can be.
The whole LP would be a great release for either artist, but it's the brilliant convergence of sensibilities that sets it apart in the landscape of alternative metal. The tonal see-sawing on 'Ancestral Recall' and 'Magickal Cost', which sets Rundle and Funck's respective vocals against soaring and descending riffs, slots neatly alongside the melodic post-hardcore of a group like Architects or Converge. When their styles blend on 'Into Being', the sound is nothing short of beautiful. What might've been a heads-only release turns out to be an excellent entry point for any would-be Thou fans, and a potential game-changer for Rundle ones.
New monthly memberships available
Here's a new thing: our membership scheme now has a pay-monthly option, plus a load of exciting new digital stuff for people who support what we do. It's actually excellent value, honest, and will help us continue to promote new independent artists and labels.
Sign up and you'll receive our physical magazines delivered to your door, our digital editions, exclusive podcasts and playlists and access to our EXTREMELY glamorous Members Lounge. You'll be the envy of all your friends.