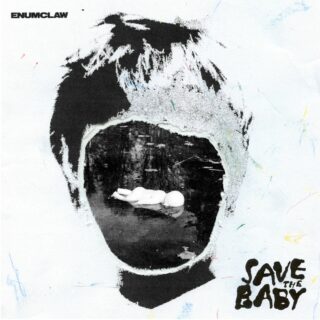 Enumclaw
Save The Baby
8/10
There's a certain bravery to be found in following your dreams, and it's this spark of courage that colours Enumclaw's swing for greatness in Save The Baby, their aspirational debut full-length. Drawing on the classic romanticism of escaping one's hometown – in this case Tacoma, Washington – the tight group of friends have produced a cathartic set of songs that soar beyond their simple rock structure. 
Hailing from the home of grunge is no burden for Enumclaw who relish walking in the shadows of greats like Nirvana; indeed, they've coined the catchphrase "best band since Oasis" on recent merch. It's tongue-in-cheek perhaps, but the Gallagher brothers' journey to success from a blue-collar background mirrors this band's desire to reach for the stars. 
Frontman Aramis Johnson paints Save The Baby with personal experience. In his view, many young men like him in working-class Black communities feel they need to make it out of tough situations via sport or mainstream celebrity, but for him Enumclaw is the getaway car. "Hey! You've got one last chance, why not give it all that you can?" Aramis sings plaintively on the album's closing track, 'Apartment', reminding himself to pursue his goals with purpose. The feeling is infectious. 
Riding upon effortless, up-tempo riffs and baggy production from Gabe Wax (Soccer Mommy, Fleet Foxes), each track has a striking naivety that disarms and inspires in equal measure. Studio chatter and plain-spoken insights are left on the floor, providing intimate moments of relief that only add to the warmth. It's clear the band are enjoying living out their ambition, but it's also evident there are plenty of emotions on the line here. With Save The Baby, Enumclaw admirably shoot their shot and I have nothing but respect for the self-belief that it's taken.