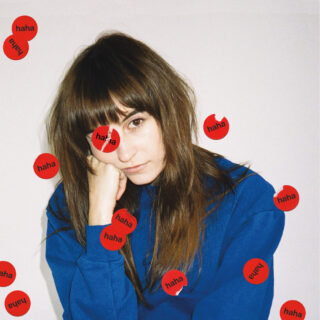 Faye Webster
I Know I'm Funny Haha
5/10
Faye Webster's breakthrough third album Atlanta Millionaires Club combined indie-country with soulful horns and shuffling hip-hop rhythms; a meditation on loneliness and introspection, it was praised for the way it broke musical barriers.
Its follow-up, I Know I'm Funny Haha, finds her in a happier place emotionally, and this has translated into a fuller and more confident sound – but also one that's retreated into less musically inventive territory. Drawing heavily on '70s country and lounge music, the Atlanta songwriter uses gentle washes of pedal steel and piano to create a homespun atmosphere. 
The languid, intimate tone was informed by her decision to record vocals in her bedroom on Garageband. This informal setting gave her the confidence to be honest, her conversational lyrics revealing myriad vulnerabilities. "He left me for someone who looks just like me," she mourns on the melancholy 'Sometimes', while on 'Cheers' she worries, "I wonder if we'll get married before my brother?"
The hushed delivery, through which Webster at times sounds like a less acid Jenny Lewis, has a certain relatability. Its impact is nonetheless lessened by the material's largely unbroken pace and dreamy cosiness. The exceptions are 'Cheers', which is one of the standouts with its grungy, fuzzy psychedelia, and 'A Stranger', which has a girl-group-style spoken word section. The acoustic closing track 'Half Of Me' is also notable for being a solo recording.
There's much here to enjoy, but no-one is laughing about how, after its more outward looking predecessor, it feels like a step backwards.
New monthly memberships available
Here's a new thing: our membership scheme now has a pay-monthly option, plus a load of exciting new digital stuff for people who support what we do. It's actually excellent value, honest, and will help us continue to promote new independent artists and labels.
Sign up and you'll receive our physical magazines delivered to your door, our digital editions, exclusive podcasts and playlists and access to our EXTREMELY glamorous Members Lounge. You'll be the envy of all your friends.