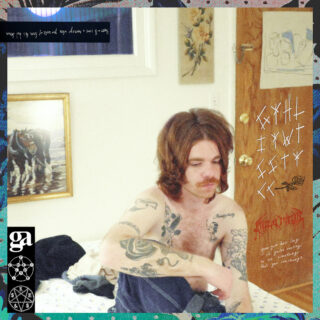 Field Medic
Grow Your Hair Long If You're Wanting To See Something That You Can Change
6/10
For Kevin Patrick Sullivan, aka Field Medic, any perceived distance between himself and his audience is wasted. His offhand humour and disarming tales of depression, drinking and sex are nothing if not vivid and intimate, bolstered by the (right) sense that much of his music is the result of off-the-cuff writing. Even when not at his most effective, choreographed and stale he certainly never is.
Joined for the first time by an additional body in the recording process, namely Gabe Goodman, concerns arose that Sullivan may have had his signature mullet metaphorically trimmed on the new album, Grow Your Hair Long If You're Wanting To See Something That You Can Change, as his coveted charm and style contends with another's influence on his sound. 
Opener 'Always Emptiness' goes some way to dispelling initial worries, as a mourning guitar line and soft acoustic strumming backs his vocalised desire to "fall off the face of the earth and probably die". However, across the nine tracks here, there is definitely a slight tonal shift; everything is cleaned up that little bit more, a trimming of corners that occasionally feels as if it tempers his style. 'Stained Glass' is particularly sterile, sweet and soft, but devoid of the in-your-face intimacy of Field Medic at his best.
That all being said, there are moments of insight and humour so perfectly formed that even the most ardent fans will find some satisfaction here. 'Weekends' builds from a starting point of admonishing the pressures of socialising on Saturday and Sunday, before developing into a rigorous questioning of the weight of life full-stop. 'Miracle/Marigold' meanwhile is heavy with likely-unwarranted regret, Sullivan announcing to his audience: "You know it's bad when you don't believe in God, but every night you close your eyes and pray". 
Perhaps the most killer line on the whole album, however, comes courtesy of 'I Had A Dream That You Died', as Sullivan, displaying both irreverence and total self-awareness, exclaims: "I had a dream that you died / Somehow made it about me." A moment so Field Medic, it maintains the faith that, regardless of what else changes, Sullivan continues to get his kicks when catching his audience off-guard.
Please support Loud And Quiet if you can
If you're a fan of what we do, please consider subscribing to L&Q to help fund our support of new musicians and independent labels
You can make a big difference for a few pounds per month, and in return we'll send you our magazines, exclusive flexi discs, and other subscriber bonus bits and pieces
Try for a month and cancel anytime