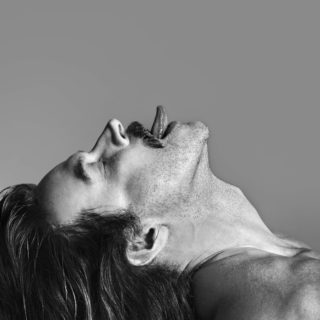 With Michael Stipe manning the studio, you might think that Fischerspooner have gone all jangle pop. On their first album in nine years, however, there isn't a shiny happy person in sight. A moody love letter to carnal lust, casual sex and club life, it's a darker piece of work than 2009's 'Entertainment.' And for the most part, their gothic, Gahan and Gore-esque take on synthpop does a decent job of conjuring up those grimy four-in-the-mornings, all blurred edges and attempts at coy glances undermined by that errant fake eyelash that's somehow made its way on to your cheek. And yet, as they enter their third decade as a band, Fischerspooner sound the same as they did in 1998, and 'SIR' comes off as a case study on déjà vu.
The biggest problem, however, is the lyrics. Goodness gracious – the lyrics. First off, everything, it seems, has to rhyme. "We're in a room," Spooner croons on 'Top Brazil,' and before he has the chance to tell you, you just know that there's either a broom, a tomb or a loom not far away. "This is doomed," it turns out, but you get the point. On 'Everything Is Just Alright,' the clumsy sixth form poetry takes a turn for the worse: "I smell the smoke, I smell the piss, I smell the anger / I'm kinda buzzed, you're kinda dumb." As an ode to averageness the subject matter is vaguely interesting yet the important bit – the execution – is awful. Meanwhile, 'Discreet''s repeated refrain of, "Tonight is the night," is a beautiful illustration of why James Murphy's lampooning of pop music's current obsession with the temporal on 'tonite' is so beautiful. In short, it reminds a bit of the time I fell asleep with Goldfrapp's 'Strict Machine' on repeat. It was annoying, but I just couldn't be bothered to turn it off. Hopefully the same fate befalls Messrs Fischer and Spooner; they might make a few quid off Spotify yet.
Loud And Quiet could do with your help
We love making Loud And Quiet – our magazines, this website, our podcasts and more – but it's become increasingly difficult for us to balance the books.
If you're a reader who'd like to help us keep the show on the road, please consider becoming a Loud And Quiet member. There are options to receive our physical magazines and lots of other extras that are exclusive to our supporters.