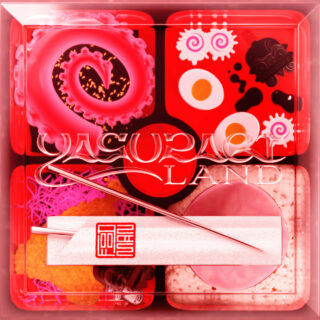 Much as time is said to stand still once you travel past the speed of light, footwork has always had a serene quality. On his new album Yasuragi Land – his first for Hyperdub – Foodman strips away some of the genre's few thrills to find that tranquil core.
In place of processed claps and skittering drums, Foodman – aka Takahide Higuchi – builds his tracks out of more organic sounding percussion, offset with the strum of an acoustic guitar or gentle plonk of what could be a glockenspiel. The overall sound is loose but rhythmic enough to fill the gaps where bass – noticeably absent from this record – usually sits.
'Iriguchi' starts as little more than a scrape of percussion and some horn stabs but somehow becomes swooning as choral samples are layered overtop. Meanwhile, 'Aji Fly' bobs along punctuated by cartoonish boings and bloops. The overall feeling is fragmented but never disjointed, and combined with the natural palate of the album, Yasuragi Land feels easy going and almost ambient despite its forays into hyperactivity. 
It makes sense then that Higuchi says the record is inspired in part by motorway service stations in Japan. For the producer and DJ, these, alongside local bathhouses, are places of relative relaxation nestled in an ever-shifting landscape. Indeed, the few tracks with English titles are named things such as 'Food Court' and 'Parking Area'. 
Occasionally the battle between serenity and speed becomes jarring, such as on 'Shiboritate'. However, even at its most head-rattling, Yasuragi Land intrigues and delights, with shards of groove emerging from and then dissolving back into the chaos.