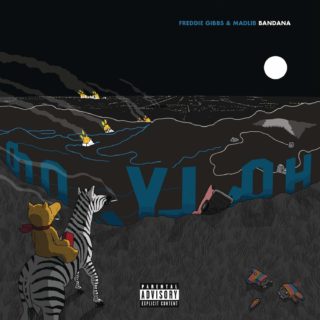 Freddie Gibbs & Madlib
Bandana
(Columbia)
9/10
"Odd couple" was a phrase circling Piñata five years ago. The team-up of mythical beatmaker Madlib and blunt thug rapper Freddie Gibbs left some (mostly white indie rap nerds) clutching their pearls and turntables before release. Madlib was an acclaimed crossover figure. His beats were mind-opening, original and obviously excellent. But they were often attached to playful and often-cartoony rap verses from artists like Kanye West and MF Doom, that softened the grit and edge lurking within them. Freddie Gibbs, on the other hand, did not give a fuck about softening his life story. The skit halfway through their new album says as much: "If you are not feeding me, fucking me or financing me, I do not give a shit."
The gangster realism might have been new territory for Madlib at the time, but the two bring magic out of each other. "Shit's so real, I gotta use fake names/ Every time I sleep dead faces occupy my brain" says Gibbs on the long-awaited follow-up, Bandana. The focus on consequence in his bars matches the hidden depths of the instrumentals. The production is woozier and more off-kilter than used to be typical for Gibbs, soaking each verse in a layer of grime to match his coked-out aggression. He thrives, finding pockets of rhythm to ride over that few rappers could.
The duo's styles twist around each other powerfully. 'Half Manne Half Cocaine' opens with a hard-nosed and noticeably contemporary beat – unusual for a musician who often looks for dustiest samples to bring back to life. Halfway through they pivot into wild, loose, new territory, jazz breaks bending around Gibb's snarled words. It's goosebump worthy. For all the giddy, unruly energy, each song on Bandana flows together to make a poetic, poignant body of work. From the masters-advice verses from Pusha T and Killer Mike on 'Palmolive', to the tender 'Soul Right', the pacing, detail and craft are overwhelming.
While most tracks feel like pieces adding to a whole, 'Education' featuring Yasiin Bey and Black Thought lives as a focused statement on injustice. Madlib lays down a weary piano and haunting soul vocal to set the tone. All three men deliver their best. "I may not be here, I'm feeling like I might just leave" they all warn in their verses, echoing each other's words despite their perceived artistic differences. Whether "conscious" rappers, or gangster rappers, or indie darlings, they're facing the same struggle. It's the beauty of MadGibb captured in brief.
The uncomfortable misogyny and embarrassing moments of truthism from Gibbs (he's an anti-vaxxer. Ugh.) are the only missteps, clashing with the album's effort to elevate all black voices and reflect painful reality. But of course Gibbs doesn't give a shit. If you can stomach that bluster, you'll find another instant classic with nuance that'll keep it there for decades. 
Free Protomartyr flexi disc with this month's magazine
Subscribers to Loud And Quiet now receive a limited edition flexi disc of a rare track with their copy of the magazine
This month's disc is from Detroit punk band Protomartyr