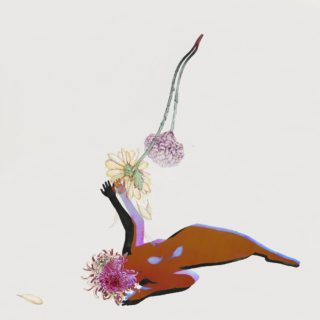 Future Islands
The Far Field
(4AD)
6/10
Future Islands might well be the first band to have to deal with a difficult fifth album. Having achieved minor success for almost a decade, 2014's 'Singles' became a slow-burning success off the back of the breakout of all breakouts, 'Seasons (Waiting on You)'. Propelled to fame in no small part by a notorious chest-pounding, throat-shredding Letterman performance, everything converged in an intoxicating mixture of passion, hooks and universality of sentiment so that Samuel T. Herring, Gerrit Welmers and William Cashion became the unlikely soundtrack of a summer. Herring has since said that he was hurt by the sniggering reaction from some corners of the web to that show-stopping TV appearance, but when he repeated the drill with added libido on Jools Holland a few months later it was clear that that was just him.
But that was then, and it'll take more to compel the average Facebook user to click 'share' this time around. It always felt like Future Islands were bubbling under, threatening to erupt – and then they did. But how do they follow it? The answer, it seems, is with more of the same: brawny bass, sweeping synths, gigantic choruses and repeated refrains. While Herring's voice is an undoubted asset, its distinctiveness amid such a lack of adventurousness only adds to the feeling of déjà vu. For better or for worse – and I would argue the latter – the second you stick 'The Far Field' on you'll know it's Future Islands.
There are some truly fascinating moments, though; hints of what the group could do if they didn't revert to type so readily. 'Ancient Water' with its discordant keys and staccato synth melody are reminiscent of early Twin Shadow and showcase the signature sound of 4AD at its very best, while 'Candles' sees Herring et al embracing space for once. A welcome respite, it is the album's best track as it changes tack from new wave maximalism to something more thoughtful. Rhythmically sensual and melodically complex, it is a triumph. As it fades and gives way to the Future-Islands-by-numbers 'Day Glow Fire,' however, it only serves to remind you that almost everything on this album draws on the same tempo, the same dynamics, and the same vocal phrasing.
Since the band shifted from the dark, gothic post-punk of their 2008 debut, 'Wave Like Home', to the synthpop polish of 'In Evening Air,' Future Islands have avoided change. Since then, while there can be no doubt that they have produced a ream of solid pop songs which can be admired in isolation, taken as a whole body of work, their oeuvre is starting to feel a little staid and disappointing.
Free Protomartyr flexi disc with this month's magazine
Subscribers to Loud And Quiet now receive a limited edition flexi disc of a rare track with their copy of the magazine
This month's disc is from Detroit punk band Protomartyr