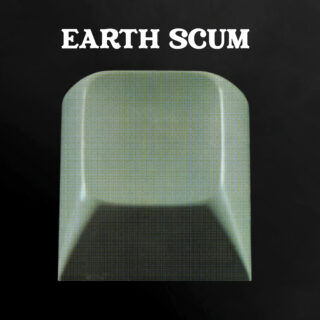 When the news of MF DOOM's passing broke on New Year's Eve 2020, his legacy of incredible music was clear. Not just his own, but that of the many artists he continues to inspire. A brilliant, if indirect, example of this can be found on Earth Scum, the debut LP from Peckham based electronic duo FYI Chris, which features beats found on a DAT in a skip near Honor Oak Park Overground, labelled 'FAO: D Dumile'. 
This anecdote is one of many related to this eclectic album by Chris Coupe and Chris Watson, two men who, one suspects, aren't short of stories to tell, having spent the best part of a decade immersed in South London's club culture. Earth Scum is first and foremost a love letter to Peckham, peppered with references to Morley's chicken shops, nights at Rye Wax, green parakeets, and features from fellow locals like MC Pinty and Simeon Jones of The Colours That Rise. It sounds like Peckham too, vital and pulsating, a hundred different cultural references thrust together in a way that can sometimes be overwhelming but is mostly pretty special, recalling the halcyon days of late-night buses, midweek comedowns and crammed dancefloors.
Subscribe now. Cancel anytime
Go on, give us a go
We love making Loud And Quiet – our magazines, this website, our podcasts and more – but it's become increasingly difficult for us to balance the books.
If you're a reader who'd like to help us keep the show on the road, please consider becoming a Loud And Quiet subscriber. There are options to receive our physical magazines and lots of other extras that are exclusive to our supporters.