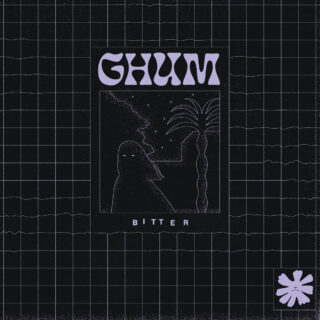 GHUM can count themselves among a crop of bands who've been threatening the mainstream for a while. Forming back in 2017, the London-based punks have achieved a startling amount with not very little: with headline tours and the BBC, Dazed and The Fader all singing their praises on the back of just a couple of singles and EPs. Attention, combined with that global pandemic you might've heard about, means that the band has taken a while to get round to putting out a debut album. Finding success so quickly has meant that GHUM has had to write new songs while juggling a brutal schedule of back-to-back UK and European tours. 
It's understandable then that Bitter has been constructed from old, half-written jams and sketched-out ideas. If this is the sound of a band being distracted, then it hasn't spilt over onto the record. GHUM has made something of a trademark out of punchy, heart-on-sleeve post-punk, and everything on this record hits the mark flawlessly. The new single and album opener 'Some People' is a triumphant story of love gone sour painted with an air-punching bass line with cheese-wire thin guitars. Third track, 'Bad Brain', is another standout; building slowly from swooning vocals and echoing distortion to stand like a golem assembled from assorted parts of Slaves, Garbage and Echo and the Bunnymen.
It's a bright start, but the problems jump out pretty quickly. As the record barrels on, it's hard not to think that every song is a variation on a theme. That's not to say that they aren't exciting moments during mid to late portions of the record, 'Perro', in particular, effectively takes monolithic drums and a skeletal song structure and channels them into an old-school brooding post-punk number reminiscent of Magazine. It appears that GHUM's intentions for Bitter have been to document the facets of their sound that got them to where they are now rather than put any markers down for the future. The result is an album that sometimes feels more like a Best Of compilation than a statement-making debut album.
That said, when has predictability ever been that much problem for a punk record? After all, Bad Religion have basically made the same record since 1982, and they're still making it work. It wouldn't have hurt GHUM to sprinkle just a little pinch of variety over their formula, but that doesn't stop Bitter from being a decent record. What it does, it does very well, and let's be honest, no one can ask more than that.
Please support Loud And Quiet if you can
If you're a fan of what we do, please consider subscribing to L&Q to help fund our support of new musicians and independent labels
You can make a big difference for a few pounds per month, and in return we'll send you our magazines, exclusive flexi discs, and other subscriber bonus bits and pieces
Try for a month and cancel anytime