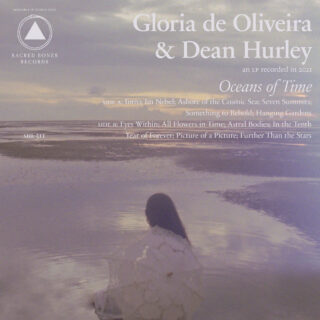 Gloria de Oliveira and Dean Hurley
Oceans of Time
9/10
Announcing an album as a distant, collaborative effort between two musicians miles and miles apart isn't that big news in 2022 – and adding that the two never met nor spoke during the process doesn't help improve things. Yet, this is exactly how Oceans of Time, the new release from Gloria de Oliveira and Dean Hurley, came to be.
Interacting exclusively as pen pals for over a year, the German-Brazilian multidisciplinary visual artist and musician from Berlin and the LA sound designer from Los Angeles exchanged demos and ideas, ending up with the material for an album. Drawing as much from Danish philosopher Søren Kierkegaard as from the atmosphere of 1980s soundtracks, Oceans of Time is an ethereal gem, as the choice of covering Jeff Buckley and Elizabeth Fraser's 'All Flowers In Time Bend Towards The Sun' as the leading single perfectly proves. A longtime David Lynch collaborator, Hurley's sonic palette leads us down a slow descent into an eerie dreamland, daunting and seductive at the same time. Impalpable and alluring, his synth work builds a series of tableaux haunted by a cryptic quality, enhanced by De Oliveira's siren voice. Her childhood desire to become an opera singer permeates through her delivery, powerful in its sensual and soft tone while singing in German, English, French and Italian. Even when the mood becomes lighter, as on 'Ashore of the Cosmic Sea', the idea of something mind-boggling happening within (or behind) the song never ceases; an idea that reaches its peak on tracks such as 'Something to Behold' and 'Eyes Within'. 
With Gloria De Oliveira and Dean Hurley both musicians who worked on and composed soundtracks for years, this wide cinematic nature is what makes the album superlative, and its balanced touch of retro the ideal finishing, like a flawless swipe of cherry red lipstick.
Free Protomartyr flexi disc with this month's magazine
Subscribers to Loud And Quiet now receive a limited edition flexi disc of a rare track with their copy of the magazine
This month's disc is from Detroit punk band Protomartyr