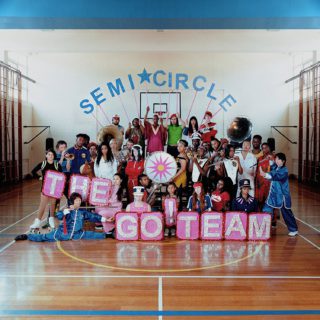 The Go! Team
Semicircle
6/10
When the Go! Team tumbled into 2003 with comedy sweatbands, clattering maximalism and a giddy enthusiasm usually reserved for TV fitness instructors, there'd have been long odds on their Tiswas-does-DJ Shadow cut'n'schtick approach lasting the summer, let alone for fifteen years and five albums. Yet here they are, bounding into 2018 with a record full of pogoing sitar samples, kids spelling out song titles, school choir singalongs, shambling marching bands, tinkly glockenspiels and, at one point, a breakdown where a series of guest singers introduce themselves with their star sign: you don't have to be crazy to be in the Go! Team, but, you sense, it helps.
Yet despite the wacky tone that envelops 'Semicircle', a really rather persuasive collection of songs lurks beneath. 'Chain Link Fence', with its steelpans and dusty string samples, is insistently and rather charmingly catchy, while the bratty girl-group sensibility of 'The Answer's No' matches its surrounding musical detritus. 'She Got Guns', too, while not breaking any particularly new hip-hop ground, has a fairly irresistible swing, and when the band streamline their ideas, on 'If There's One Thing', they reveal themselves to be quietly expert songsmiths.
Ultimately, though, 'Semicircle' is an acquired taste: for all the hints at pop genius, an indiscipline permeates the record, manifesting itself as grating zaniness. "Warning," the cover should say, "contains nuts".
New monthly memberships available
Here's a new thing: our membership scheme now has a pay-monthly option, plus a load of exciting new digital stuff for people who support what we do. It's actually excellent value, honest, and will help us continue to promote new independent artists and labels.
Sign up and you'll receive our physical magazines delivered to your door, our digital editions, exclusive podcasts and playlists and access to our EXTREMELY glamorous Members Lounge. You'll be the envy of all your friends.