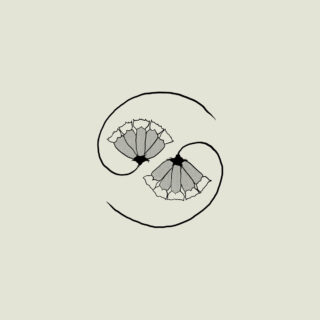 Godspeed You! Black Emporer
G_d's Pee AT STATE'S END!
8/10
Coming into any new Godspeed You! Black Emperor album, the anxiety is never whether it will be any good, but exactly how good it will be. 
Each of Godspeed's previous six albums have typically reveled in the same sonic sphere. A self-contained apocalyptic narrative told in sweeping symphonies, with sprawling carpets of sound woven together by the numerous members of the Canadian post-rock collective who wield guitars, double basses, violins, and tinker with tape loops, percussion, and visual dynamics via projections. Nearly a quarter of a century into the group's existence, this formula has remained broadly untouched.
Therefore, pinpointing how good a new Godspeed album is lays in its orchestration; how well it subsumes our consternation and how vibrant, coherent, and deep the musical journey is. In essence, how lost we become in it. In this respect the group's seventh LP, G_d's Pee AT STATE'S END!, is in the upper echelon of Godspeed releases.
Throughout, there is a captivating looseness that creates countless stirring moments, such as the scraping strings of 'Job's Lament' which spiral into Timothy Herzog's drums, smashing and clattering and tearing apart, with ghostly guitar seeping through like a weathered visitation. Breathless, bewildering, but as always with Godspeed, bloody beautiful. 
The centrepiece of the album however is the stretching '"GOVERNMENT CAME"', which opens up like the best of Godspeed, with a seemingly irreverent sample of some lost cinematic world. Slowly, the sample fades into thick Jimi Hendrix-like distorted riffs and wilting legato violin strokes that saunter to the ground in graceful descent, barely kept afloat by the quivering double bass. The mid section builds ebulliently with prancing drums that begin to gallop, joined in the race by reverbed guitar and searching strings. As the track soars to a pulsating photo finish, the respective timbre of the instruments becomes indistinguishable, with the song's final strides a blurred but cathartic burst of collective feedback. 
At heart, there isn't anything profoundly new for the band on G_d's Pee AT STATE'S END, but truthfully, there's still no other rush out there like it. For ardent Godspeed fans, it's the perfect fix, and for the uninitiated, it's as good a starting place as any.
We're not being funny...
… but can you become a member please?
It's actually excellent value, and will help us continue to promote new independent artists and labels.
Sign up and you'll receive our physical magazines delivered to your door, our digital editions, exclusive podcasts and playlists and an actual bookmark, as if printing a magazine in 2021 wasn't old fashioned enough.
6-month and full year memberships are available now. Fancy it?