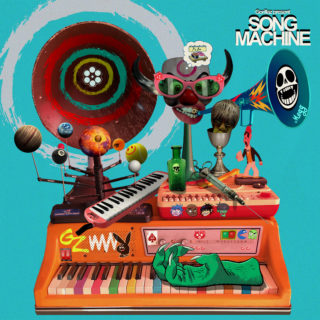 Gorillaz
Song Machine Season One: Strange Timez
6/10
Gorillaz began with Damon Albarn and Jamie Hewlett sat watching MTV. Annoyed at the lack of substance from the manufactured acts of the time, they decided to manufacture their own as a comment on that artifice, or something. Twenty years on, the legacy of 2-D, Murdoc, Noodle and Russel Hobbs has gone far beyond ribbing the Backstreet Boys. Luring us in with the colour and edge of Saturday morning Cartoon Network, they introduced a generation of impressionable kids to leftfield forms of music – a gateway into hip-hop, latin, dub and electronic styles with an accessible look to accompany it. 
That spirit carries on to Song Machine Season One: Strange Timez, the seventh full-length from the fictional group. It's a bubbly and explorative collection of collaborations that solidifies Gorillaz as a hub for leftfield pop. Legends like Robert Smith, St Vincent and Peter Hook share space with underground heroes like CHAI, JPEGMAFIA, and Octavian. Through it all, Gorillaz provide a playful, expensive sounding instrumental backdrop that combines plastic textures with disorienting vocal effects and classic synth sounds.
For the most part, the feature heavy approach works. Robert Smith is as dramatic as you'd hope on the opener, 'Strange Timez', giving energy to the warped dance beat beneath him. Schoolboy Q's snarled verse on 'PAC-MAN' does the same to what is a classically goofy Gorillaz instrumental. 
The standouts are from Fatoumata Diawara on 'Desolé' and Moonchild Sannely on 'With Love to an Ex'. The former is a sharp piece of acoustic summer pop that gives plenty space for Diawara's stunning vocal line. The latter is a stone-faced ex-anthem with cheeky lyrics as a brilliant laidback flow. 
Beck's tired rap-singing on 'The Valley of the Pagans' is a lot less effective. Paired with Albarn's deadpan drawl, the two begin to grate quickly. 'The Lost Chord' is irritating for different reasons – an eighties slow jam pastiche that was dated about five words ago.
Season One of Song Machine has a lot to offer in terms of inventive collaborations and experiments. It's an intentionally mixed bag, but there's surprising thematic consistency from Albarn, with his toybox approach to sound design and genre fusion. It'll be well worth renewing a second season. 
New monthly memberships available
Here's a new thing: our membership scheme now has a pay-monthly option, plus a load of exciting new digital stuff for people who support what we do. It's actually excellent value, honest, and will help us continue to promote new independent artists and labels.
Sign up and you'll receive our physical magazines delivered to your door, our digital editions, exclusive podcasts and playlists and access to our EXTREMELY glamorous Members Lounge. You'll be the envy of all your friends.