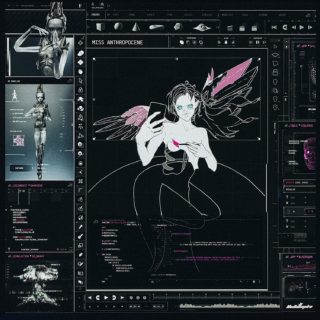 Grimes
Miss Anthropocene
(4AD)
7/10
Each new Grimes release brings forth a fresh set of expectations, and her fifth studio album Miss Anthropocene can't help but bear the greatest weight to date. In the run-up to its release, Claire Boucher has appeared to have endorsed the AI-accredited decline of live music and "human-only art" and put together an art installation-cum-"luxury raving" enterprise called Bio-haque. She's posited our age, in true neo-classical style, as one for "a generation of the last artists" and, in an ultimate act of self-assassination, Boucher changed her name to c with the intention of killing off her Grimes moniker once and for all, bolstered by the creation of a new "persona" named War Nymph born to handle social media responsibilities and music video appearances. Also, Elon Musk.
What with the to-do list of c's publicist reaching inhaler-sucking length, it's easy to forget that Miss Anthropocene is, apparently, supposed to be a concept album about the climate crisis. How do you solve a problem like global ecological collapse? Grimes' solution: invent yet another avatar — the titular beauty queen-satyr-Batman villain — in order to sex it up for the masses. A tall order — and sadly, where this particular Grimes album had the potential to court controversy like no other, it splits the scene before the bill arrives.
But Grimes still has the nerve to flirt. 'Violence' details an uneven power dynamic which could just as easily match up to public perceptions of c as it does for humanity's sadomasochistic treatment of the planet. "You wanna make me bad, make me bad / and I like it like that, and I like it like that". There's no 'We Appreciate Power' to speak of here (curiously relegated to a Japan-only bonus track) and little semi-ironic nu metal bombast to replace it, but 'Delete Forever' features one of c's most disarming musical bait-and-switches to date in the form of a banjo-indented folk number, with all the zero-irony earnestness that might entail.
After a career of anything-goes audaciousness — 2015's Art Angels being her zenith in both cases — Miss Anthropocene ironically comes off as her most subdued LP where anyone might have expected it to be bacchanalian feast. Far from being an orgiastic party at the end of the world, the vast foyers of 'So Heavy I Fell Through The Earth', 'New Gods' and 'My Name Is Dark' (with its irresistible time and space-pinning couplet "underneath the bridges where the tainted kiss / put on Bullet with Butterfly Wings") showcase the talents of a very different Grimes; if not a lyrical actor of loneliness, then one who's mask is gently slipping.
In touting an album that promises to inject climate change with an irreverent sense of fun, Grimes has sold herself short by distilling both the absurdity and melancholy of end times into her most mature album to date. "This is the sound of the end of the world / dance with me to the end of the night", she sings on 'Before the Fever'. That's the thing about creating at the end of the human epoch; it's a fine time until it stops.
Free Protomartyr flexi disc with this month's magazine
Subscribers to Loud And Quiet now receive a limited edition flexi disc of a rare track with their copy of the magazine
This month's disc is from Detroit punk band Protomartyr